Amy Singer
So excited! I have a brand-new Craftsy class to share with you!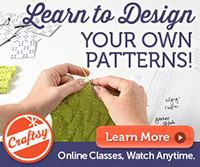 Learn my user-friendly method of designing beautiful custom scarves or shawls with your choice of stitch patterns in the comfort of your own home, office or anywhere you have internet access!
Click the picture above to learn more!
(Have questions for me? Please use the contact form at my website, amysinger.ca. I can't keep up with Ravmail.)