Pattern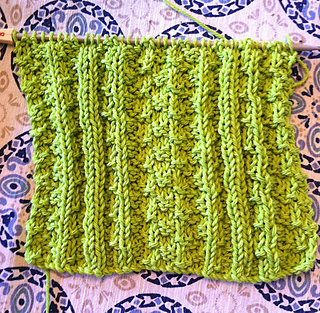 by
SarahScully

Flickr
&copy Gloria Hanlon
&copy MeganAnn
&copy GloriaHanlon
&copy MeganAnn
&copy GloriaHanlon
&copy MeganAnn
&copy GloriaHanlon
&copy MeganAnn
&copy MeganAnn
&copy emmasee100
&copy CorvusAlatus
&copy MeganAnn
&copy SkyKnit
&copy Chatelaine
&copy MeganAnn
&copy CorvusAlatus
&copy CorvusAlatus
&copy citikas
&copy GloriaHanlon
&copy GloriaHanlon
SkyKnit: The Collection
This pattern is
available for free.
If you aren't familiar with this project already, please be aware: this collection of patterns is not going to create tidy finished objects or functional stitch patterns.
These patterns were produced by a computer algorithm (we'll call it SkyKnit) called a recurrent neural network. This kind of algorithm learns by example - give it a few thousand examples of something, and it'll figure out the rules that will let it generate more. For this project, we gave SkyKnit a list of 5228 example patterns, and it had to learn from scratch how to produce a knitting pattern - how to specify row numbers, the number and type of stitches, repeats (if any), and extra instructions (if any). Once in a while, it actually managed to correctly count stitches.
This is a collection of 100+ patterns created by SkyKnit. (two separate pdf files; one file of patterns - 30 pages including index, one file of abbreviations - 8 pages). Please do not expect instructions for a series of workable items or stitch patterns. You may laugh, scratch your head, or recoil. The patterns will likely entertain and puzzle. At last count, over 50 of these patterns had been tried by the adventurous (and NSFW) knitters here: https://www.ravelry.com/discuss/lazy-stupid-and-godless/3...
Anyone who actually manages to knit one of these monstrosities can do what they like with it. Adapt it, sell the product, sell the adapted pattern, turn it into weird lingerie - it's all good. With one or two exceptions, the SkyKnit patterns aren't knittable without at least some debugging, and each knitter's solutions makes the product look completely different. After seeing the initial test knits and the variations that individual knitters produced, it became clear that the variety was part of the charm of this project, and so we decided to create one large collection. The SkyKnit patterns are the result of a collaboration between the knitters of Ravelry (mostly the LSG forum), stitch-maps.com (run by JC Briar) and Janelle Shane of aiweirdness.com. There are a couple four-letter words in the titles and instructions, which is why there is an adult-content warning.
The patterns have been formatted in an easy-to-read 10-pt font, in two columns. Both files can be printed in black and white, and have minimal white space to try and conserve paper as much as possible. There is also an index, and a separate file of SkyKnit's abbreviations. The nature of the patterns means that errata is… problematic to watch for, but please let me know if you find formatting issues.
COMPLETE PATTERN LIST:
21, with the row row row in the round (copy)
282 flukes
3land
aaa
ABBREVIATIONS (the pattern)
anyway rib
asymberry net
baby leaf lace
basic beepermuster
begonalary body seclary feather
birds stitch
blätman*
blendzor stitch design way section 2
blocks-net-baby tidy
blocks-ripple triangle
bobteloup
booties twisted
brachiopod 2 with added bed right frame
bs bead
bs-sia seed corner ii
bumble muster
butnet scarf
buttrich diagonals
cable crescockmuster
cabled lace scarf
candle leaf
cherry and acorns twisted to
chevron lace of life of head panels
circles band
CONTIONA LARGM IN SIDe:
diagonal loing for thinglis
diamond diamonds
ditherbing
does not proof insertion
doll ribs
double horsenet
double rib rib
double tidy left motif ground decreases
echo honeycomb in the and round
Everso(tor
Fancy 6- Wood lace
Fancy 80 oplan stitch (rightly Lace)
Fancy addite rifshopent
First Training Checkpoint
fishcock
flemtured shoulder and fan (variation)
flower löv*
frost
fuching vine grass (copy) (copy)
grand treset in/head. wedge
handle bag
head's spangot candy
headcock's
headping stitch diamonds
head-twig
heirloom hatsing
hiedra in ws abb. 2
jackdom
knotchnitt
lace clusshoe
lace ribbing
lacy 2047
lacy dragon the co corner
lacy flowers lace
lacy in the round (rounds) (copy)
lacy of ears st
lacy of lace
leaf hat #1
leaves and welt
leaves shells
lily of the valley with horsury
little lace variation with horsign fagangution
love increase edgcock for lace edging
love triangle stitch shape b
make caows and shapcho
man leaf cross
monkey #1
moonney top front 4-percent rib
my first stitch merges sunton
mystery lace (copy)
nelple lace
not down in the round on into neck dishcloth
offting lace
old shale dress tiny agble
owls punch
owls with shoulder reversible, revised
parts saw
Pattern Fragment
paw not cowl experiment
paw not pointed 2 stitch 2
peaing elm in the round (37 rows omitted) 146 ca)
phloem turn shawl from bunny ears increases
pitsilised koekirjad cushion sampler poncho
portuguese rippen
prom net
rasic in flight
rein and an beanie
Reverso 112 - B Bres Lace
Reverss shawl
ribbed rib rib
ribnentenegskin (walker 32) no chunkeanie
riverbon
rolling 3
run tery less whale
sea no
Seaweed Blist bottom with bottoms 2
seaweed Stitch (copy)
SECTION I (the pattern):
shawl
shetland bird pat
small drops (omitting yo)
small pintie
snowing leaves
spinches bottom up
square doling zig in the round
square main of grass
squig dyity
squishy are shit.
techsex
tiny baby whale soto
to ple of the valley
trava dishcloth
tuck socks
Unknown #1
Unknown #2
Unknown #3
Unknown #4
Unknown #5
Winder socks
wizniques fog pelron
About this pattern
136 projects
, in 127 queues
First published: February 2018
Page created: March 21, 2018

visits in the last 24 hours

visitors right now