Pattern
&copy Alina Dalichau
&copy Alina Dalichau
&copy Alina Dalichau
&copy Alina Dalichau
&copy Alina Dalichau
&copy Alina Dalichau
&copy Alina Dalichau
&copy Alina Dalichau
&copy Alina Dalichau
&copy Alina Dalichau
&copy Alina Dalichau
&copy Alina Dalichau
&copy Alina Dalichau
&copy Alina Dalichau
&copy Alina Dalichau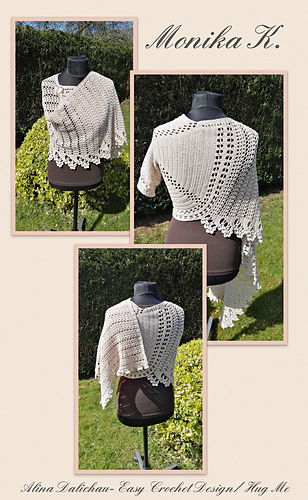 &copy Alina Dalichau
&copy Alina Dalichau
&copy Alina Dalichau
&copy Alina Dalichau
&copy Alina Dalichau
&copy Alina Dalichau
&copy Alina Dalichau
&copy Alina Dalichau
&copy Alina Dalichau
Hug Me Bolerotuch
This pattern is available
for
€3.28 EUR
buy it now
Hug Me
Umarme mich
Wer häkelt schon gerne den zweiten Ärmel ? Ich nicht :-) Wenn auch du das Außergewöhnliche liebst, ist "Hug me" genau das Richtige für dich.
Entstanden ist diesmal ein Zusammenspiel aus Bolero und Tuch! Eine liebevolle Umarmung, mit der wir uns selber etwas Gutes tun können.
Meine Anleitungen können in allen Größen nachgearbeitet werden, sind Schritt für Schritt erklärt, und für kreative Selbermacher geeignet, die gerne eigene Ideen einbringen, um ihr Werk einzigartig zu gestalten. Die Größe bestimmt ihr selbst, indem ihr eure Arbeit in verschiedenen Schritten für euch anpasst.
Gute Häkelkenntnisse sind erforderlich!
Diese Anleitung (39 Seiten, davon 10 Seiten Testwerke und Angaben) ist sehr ausführlich maschenweise ausgeschrieben, und enthält mehrere elektronische Häkelschriften, sowie viele Bilder zum besseren Verständnis.
Verbrauch:
Ich habe gefachtes Garn/ 4 fädig verarbeitet.
Gr. 36/38: ca. 1000m/ 270gr bis 1100m/ 300g ,
Gr. 40/42: ca. 1000m/ 270gr bis 1300m/ 350gr,
Gr. 44/46/48: ca. 1200m/330gr bis 1350/ 365gr,
Gr. 50/52: ca. 1300/ 365gr bis 1500m/ 405gr
Die Angabe des Gewichts bezieht sich im Zusammenhang mit der LL auf 4 fädiges Garn. Je nach Nadelstärke, Fadenzahl und der Länge/ Breite des Tuchs schwankt der Verbrauch. 3 fädig oder mit kleiner Nadelstärke liegt man eher im oberen Bereich des Verbrauchs.
Kenntnisse und Abkürzungen:
Luftmaschen- LM, Stäbchen- Stb, Halbe Stäbchen- HStb, Kettmaschen- KM, Feste Maschen- FM, Stäbchen zusammen abmaschen- Stb abm (Erklärung auf Seite 5), M- Masche(n).
Es ist nicht erlaubt, diese Anleitung weiter zu verkaufen, gratis weiter zu geben, oder für gewerbliche Zwecke zu nutzen.
Design & Anleitung: © Alina Dalichau - Easy Crochet Design, alina_dalichau@yahoo.de, 2016, Alle Rechte vorbehalten.
Artikel die mit meiner Anleitung entstanden sind, dürfen aber in beliebiger Stückzahl, mit dem Zusatz "Gearbeitet nach einer Anleitung von Alina Dalichau- Easy Crochet Design", verkauft werden.
Wer Interesse hat, oder Hilfe braucht, darf sich gerne melden oder vorbeischauen. alina_dalichau@yahoo.de Facebookgruppe (geschlossene): Alina Dalichau- Easy Crochet Design. Facebook Messenger: Alina Dalichau
Italian:
Hug Me
Abbracciami
A chi piace realizzare la seconda manica? A me no di certo. Se anche a voi piacciono i modelli inusuali, "Hug me" è la scelta ideale.
Questa volta si tratta di un incrocio tra bolero e stola. Un abbraccio pieno d'amore, per volerci bene.
I miei modelli possono essere lavorati in tutte le taglie, sono spiegati passo passo e perfetti per le amanti del fai da te più creative che inseriscono nel lavoro il loro tocco personale per renderlo unico. La taglia si determina da sé adeguando il proprio lavoro nelle singole fasi di lavorazione.
È consigliata una buona conoscenza delle tecniche dell'uncinetto.
Il presente modello, composto da 39 pagine di cui 10 di campioni e relativi dettagli, è comprensivo di spiegazione maglia per maglia, numerosi grafici in formato elettronico e molte fotografie per facilitarne la realizzazione.
Metratura:
Io ho utilizzato un filato a 4 capi:
Taglia 40/42: indicativamente da 1000 m / 270 g fino a 1100 m / 300 g,
Taglia 44/46: indicativamente da 1000 m / 270 g fino a 1300 m / 350 g,
Taglia 48/50/52: indicativamente da 1200 m /330 g fino a 1350 m / 365 g,
Taglia 54/56: indicativamente da 1300 m / 365 g fino a 1500 m / 405 g
I dati riportati sopra si basano sul consumo di un filato a 4 capi. La metratura varia a seconda del numero di uncinetto utilizzato, dal numero di capi e dalla lunghezza/larghezza della stola. Con un filato a 3 capi o con un uncinetto più piccolo sarà necessario utilizzare una quantità di filato maggiore.
Conoscenze richieste e abbreviazioni.
Catenella - cat, maglia alta - ma, mezza maglia alta - mma, maglia bassissima - mbss, maglia bassa - mb, maglie alte chiuse insieme - ma ch. ins. (spiegazione a pagina 5), m - maglia/e.
Il presente modello non può essere venduto o messo a disposizione di terzi a titolo gratuito e non può essere utilizzato per scopi pubblicitari.
Modello e spiegazioni: © Alina Dalichau - Easy Crochet Design, alina_dalichau@yahoo.de, 2016, tutti i diritti riservati.
I prodotti realizzati sulla base del modello, indipendentemente dal loro numero, possono essere venduti purché riportino l'indicazione "Lavorato sulla base di un modello di Alina Dalichau - Easy Crochet Design".
Dateci un'occhiata se siete interessate o se avete bisogno di aiuto. alina_dalichau@yahoo.de Gruppo facebook (chiuso): Alina Dalichau- Easy Crochet Design Italia Facebook Messenger: Alina Dalichau (tedesco o inglese)
English:
Hug Me
Who likes to crochet the 2nd sleeve? Me not :-)
If you like the extraordinary, "Hug me" is exactly the right for you.
My patterns can be worked in all sizes, they are explained step by step and suitable for creative do-it-yourselfers who want to bring forward own ideas to make their work unique. You can determine the size by adjusting your work in progress step by step.
Good crochet skills required!
Consumption:
Size 36/38 (US 8/10; UK 10/12): approx. 1000m (1094 yd)/270gr to 1100m (1203 yd)/300gr
Size 40/ 42 (US 12/14; UK 14/16): approx. 1000m (1094 yd)/270gr to 1300m (1422 yd)/350gr
Size 44/ 46/ 48 (US 16/18/20; UK 18/20/22): approx. 1200m (1312 yd)/330gr to 1350 (1476 yd)/365gr,
Size 50/ 52 (US 22/24; UK 24/26): approx. 1300 (1422 yd)/350gr to 1500m (1640 yd)/405gr
Yarn weight and length are calculated based upon 4-ply yarn.
Depending on hook size and number of threads consumption is deviating.
Using 3-ply yarn and / or a smaller hook size consumption will be in the upper range.
This manual (39 pages, including 10 pages of test works and information) is written out in a very detailed manner and contains several electronic crochet charts as well as many pictures for a better understanding.
Skills and Abbreviations (US-Terms):
Chain- CH, Double Crochet- DC, Half Double Crochet- HDC, Slip Stitch- SL, Single Crochet- SC,
3 Double Crochets together- 3DCtog (explanation below), Double Chain Replacement – DCRep (= 3 CH), Stitch- ST.
It is prohibited to sell this pattern, passing it on for free or use it for commercial purposes.
Design & Pattern:
© Alina Dalichau - Easy Crochet Design, alina_dalichau@yahoo.de, 2016, All rights reserved!
However, goods made by using my pattern may be sold with no restriction in terms of quantity by using the phrase: "Made based upon a pattern by Alina Dalichau- Easy Crochet Design".
Translation by Rieke Stroehmann
About this pattern
10 projects
, in 26 queues
More from Alina Dalichau
See them all...
First published: May 2018
Page created: May 16, 2018

visits in the last 24 hours

visitors right now