Pattern
&copy Swanky Emu Knits
&copy Swanky Emu Knits
&copy Swanky Emu Knits
&copy Swanky Emu Knits
&copy Swanky Emu Knits
&copy Swanky Emu Knits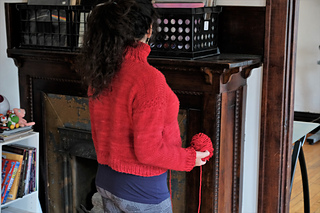 &copy Swanky Emu Knits
&copy Swanky Emu Knits
&copy Swanky Emu Knits
&copy Swanky Emu Knits
&copy Swanky Emu Knits
&copy Swanky Emu Knits
&copy Swanky Emu Knits
&copy Swanky Emu Knits
&copy Swanky Emu Knits
&copy Swanky Emu Knits
Hygge Me Close
This pattern is
available for free.
Overview
Hygge Me Close is a cozy warm hug of a sweater perfect for a cold winter day. Its drop-shouldered, slightly boxy construction balance with curving, organic cable details along the sides and around the arms.
The pullover was designed as a pattern donation to the wonderful folks at Fibre Forward. It is and will always be a free download for everyone.
Sizing Info:
Like all of my patterns, Hygge Me Close is #sizeinclusive and has absolutely no upper or lower size limits. It's custom-fit to your unique measurements.
Seriously, this sweater is for everyone. The pattern asks you to input 6 of your body measurements (in inches) and then calculates the pattern from there. It can be knit to a cropped length, tunic length, and everywhere in between. The neck is also customizable, so you could knit anywhere from a crew neck to a full foldover turtleneck.
The last photos to the left show the body measurements required and how these translate into the final garment.
Gauge and Yarn information
In order to obtain the custom fit, a precise gauge of 3.5 stitches and 4 rows per 1" with any bulky weight yarn is needed for this pattern.
I achieved gauge with a strand of Briggs and Little Heritage and a strand of Lion Brand Fisherman's wool held together for a wonderful marled effect.
Other testers used (and recommend) Knitpicks Wool of the Andes Bulky Superwash and non-Superwash as well as Istex Lopi in bulky. In general, any plied and non-superwash yarn will work very well, not pilling or deforming as much over time as superwash or something with a single ply.
Yardage Required
As so many pieces of this sweater are customizable to your measurements, yardage can vary. However, use the following chart as a guide.
The amounts below are for a sweater that is 18 inches from underarm to hem. Although measurements are listed every 4 inches, this was done only to conserve space. Absolutely every bust/chest measurement, in half-inch increments, is available in this pattern!
Note that if you're using two strands held together, you will need the yardage listed below for each yarn. Yarn for a gauge swatch is not included in these estimates.
To create a sweater for a 30 inch actual bust/chest body measurement (measured at the widest part of your upper torso), 510 yards of bulky weight yarn is needed
34", 600
38", 700
42", 775
46", 850
50", 975
54", 1050
58", 1140
62", 1230
66", 1320
70", 1410
Pattern Download
This free pattern includes both PDF and spreadsheet versions designed to be used together. The spreadsheet file will use your measurements and automatically do the rest of the formula math for you!
Swanky Emu Knits design philosophy
I've had to modify every single sweater I've ever knitted for myself. I know plenty of people who look like me, but my body is larger or differently proportioned than most knitting patterns seem to call for.
I create size-inclusive instructions to ensure my patterns work effortlessly for absolutely any body size and shape, no matter what. And I build this into the framework of the design rather than add it later. Everyone deserves to wear something that is tailored to their shape and makes them look and feel amazing.
:heart:
Swanky Emu Knits
Donations to Fibre Forward
The pattern is (and always will be) free to everyone. However, if you're able to, please consider donating what you can to Fibre Forward to help support their mission! Their suggested pattern donation is $10 and all funds go straight to Fibre Forward.
First published: December 2019
Page created: January 1, 2020

visits in the last 24 hours

visitors right now