Pattern
&copy Cecilia Losada
&copy Cecilia Losada
&copy Cecilia Losada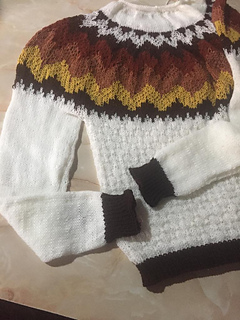 &copy Cecilia Losada
&copy Cecilia Losada
&copy Cecilia Losada
&copy Cecilia Losada
&copy Cecilia Losada
&copy Cecilia Losada
&copy Cecilia Losada
&copy Cecilia Losada
&copy Cecilia Losada
&copy Cecilia Losada
&copy Cecilia Losada
&copy Cecilia Losada
&copy Cecilia Losada
&copy Cecilia Losada
&copy Cecilia Losada
&copy Cecilia Losada
&copy Cecilia Losada
&copy Cecilia Losada
&copy Cecilia Losada
&copy Cecilia Losada
&copy Cecilia Losada
Nina Sweater
This pattern is available
for
€8.50 EUR
buy it now
or
visit pattern website
TODO LO RECAUDADO DURANTE LAS PRIMERAS 48 HORAS SERÁ DONADO A AYUDAR A MUJERES DEL AMAZONAS A COMPRAR HERRAMIENTAS Y SEMILLAS PAR QUE PUEDAN CULTIVAR SUS PROPIOS ALIMENTOS. Support me in Patreon, and receive PATTERNS FOR FREE! and more rewards, feel free to visit and sign up HERE! Thanks!* // Para tu interés!: Si estás inscripto en mi Suscripción Mensual de Patreon, RECIBIRÁS PATRONES GRATIS cada mes y más recompensas. Te invito a visitarme para más información AQUÍ. Gracias!
Nina Sweater KAL Ravelry Group https://www.ravelry.com/discuss/mamma-do-it-yourself/4067321/1-25
This design has been possible thanks to the #retoteje3palabras #knit3wordschallenge organized by the guys from @merinoferoz and @beagleknits.
The challenge was to design something that was inspired by the Salar of Uyuni in Bolivia, colors that taste good weather and intensity.
Nina Sweater is to design inspired by the sunsets of the Salar of Uyuni, in the women who work the land and are as powerful as fire.
Nina, in the Aymara language, means fire, ember, candle.
If you want, you can research on YouTube and Instagram with the above mentioned hashtags to discover all the proposals of all the people who have participated in this challenge, I am sure you will be surprised!
Construction Notes:
Read all the instructions very well before starting to knit and take the time to knit the gauges and block them.
This sweater has a Top Down construction with a circular yoke.
We begin to knit the elastic at the neck opening, which in this case is with stockinette stitch. A section of short rows is worked in the back. The Yoke is worked following the Colorwork Chart.
Once the yoke is completed, separate Sleeves and Body, and only work in Body section .
Once the body is finished, you can continue with both sleeves.
This pattern contains written instructions and a Colorwork Chart.
It is presented in 10 different sizes. I recommend a positive ease of 10 cm / 4". To choose your size, you can measure the circumference of your chest with a sewing tape measure and add the amount of cm / inches of positive ease to the result. In the measurement table, choose the size that in the Chest measurement reflects your final result.
The instructions are presented as follows in 10 different sizes 1 / 2 / 3 / 4 / 5 / 6 / 7 / 8 / 9 / 10, so I recommend that before starting to knit, mark with a fluo or color marker the number that corresponds to your size to avoid confusion when following the pattern.
The model in the picture wears a size 3, has an 87 cm / 34,35" chest and is 172 cm / 67,7" tall.
Yarns
For this design I have used skeins of differents Fingering yarn weight brands. Each skein is 100 gr / 400 m / 3 ½ oz / 440 yds. 1 Main Color and 5 Contrast Colors.
Composition: 100% merino extrafine superwash. 100% handyed natural fibers.
Main Color (MC): Natural. Amount by weight: 180 / 180 / 200 / 260 / 300 / 300 / 350 / 350 / 400 / 400 gr Amount in metres: 720 / 720 / 800 / 1040 / 1200 / 1200 / 1400 / 1400 / 1600 / 1600 m
Contrast Color 1 (CC1): 20 gr for all sizes.
Contrast Color 2 (CC2): 20 gr for size 1 to 6, 30 gr for size 7 to 10.
Contrast Color 3 (CC3): 20 gr for size 1 to 4, 30 gr for size 4 to 7, 40 gr for size 8 to 10.
Contrast Color 4 (CC4): 20 gr for size 1 to 6, 30 gr for size 7 to 10.
Contrast Color 5 (CC5): 20 gr for size 1 to 7, 30 gr for size 8 to 10.
Needles and Notions
Circular Needles 3 mm / US 2 ½ for neck, waist and cuffs
Circular Needles 3.50 mm / US 4
Short Cable of 40 cm for neck and sleeves, if you don't have this cable you can work with a larger cable and Magic Loop Method
Cable of 80 cm.
Stitch Marker for the beginning of the round and differents stitchs markers.
Tapestry needle
Scissors
Rowcounter (optional)
Gauge:
For Body in stockinette: With 3,5 mm / US 4 and working in the round you will obtain in 10 x 10 cm / 4", 26 STs x 27 Rounds.
For Yoke in stockinette with colorwork for the section: With 3,5 mm / US 4 and working in circular you will obtain in 10 x 10 cm / 4", 24 STs x 22 Rounds.
Gauges are blocked.
Instagram: @mammadiypatterns
Facebook: facebook.com/mammadiy
Ravelry: ravelry.com/people/mammadiy
Subscribe to my Newsletter here http://eepurl.com/dvytp9
Patreon: http://www.patreon.com/mammadiypatterns
++++++++++++++++++++++++++++++++++++++++++++++
GRUPO DE RAVELRY PARA TEJER JUNTAS Y JUNTOS AQUÍ https://www.ravelry.com/discuss/mamma-do-it-yourself/4067321/1-25
Este diseño ha sido posible gracias al #retoteje3palabras #knit3wordschallenge organizado por los chicos de @merinoferoz y @beagleknits.
El reto consistía en diseñar algo que estuviese inspirado en el Salar de Uyuni, colores que sepan a buen tiempo e intensidad.
Nina Sweater es un diseño inspirado en los atardeceres del Salar de Uyuni, en las mujeres que trabajan la tierra y son tan poderosas como el fuego.
Nina, en lengua Aymara, significa fuego, brasa, candela.
Si quieres puedes investigar en YouTube e Instagram con los hashtags arriba mencionados para descubrir todas las propuestas de todas las personas que han participado en este reto, estoy segura que te sorprenderás!
Notas de Construcción:
Este Sweater tiene una construcción Top Down (de arriba hacia abajo) con canesú circular.
Se comienza a tejer por la abertura del cuello el elástico, que en este caso es con punto jersey. Se teje una sección de vueltas cortas en la espalda. El Canesú se teje siguiendo el esquema de Colorwork.
Una vez completado el Canesú, se dejan en descanso los puntos que corresponden a las mangas, se agregan puntos en ambas axilas y se continúa tejiendo sólo los puntos que corresponden al cuerpo con el Punto Fantasía, también puedes hacerlo con Punto Jersey.
Una vez terminado el cuerpo, se continúa sólo con las mangas.
Este patrón contiene instrucciones escritas y esquema de Sección Colorwork.
Viene presentado en 10 tallas diferentes. Se recomienda una holgura positiva de 10 cm. Para escoger tu talla, puedes medir la circunferencia de tu pecho con una cinta métrica de costura y al resultado sumarle la cantidad de cm de holgura positiva. En la tabla de medidas, escoge la talla que en la medida Pecho refleje tu resultado final.
Las instrucciones vienen presentadas de la siguiente manera 1 / 2 / 3 / 4 / 5 / 6 / 7 / 8 / 9 / 10, por lo que te recomiendo que antes de comenzar a tejer, marques con un rotulador el número que corresponde a tu talla para evitar confusiones a la hora de seguir el patrón.
La modelo de la foto viste una talla 3, tiene 87 cm de pecho y tiene una altura de 172 cm.
Lanas:
Para este diseño he utilizado ovillos de diversas marcas de Calibre Fingering. Cada ovillo es de 100 gr / 400 m / 3 ½ oz / 440 yds. 1 Color Principal y 5 Colores Contrastes.
Composición: 100% merino extrafino superwash. 100% fibras naturales tintadas de manera artesanal.
Color Principal (CP): Blanco Natural.
Cantidad en peso: 180 / 180 / 200 / 260 / 300 / 300 / 350 / 350 / 400 / 400 gr
Cantidad en metros: 720 / 720 / 800 / 1040 / 1200 / 1200 / 1400 / 1400 / 1600 / 1600 m
Color Contraste 1 (CC1): 20 gr para todas las tallas.
Color Contraste 2 (CC2): 20 gr para tallas 1 a 6, 30 gr para tallas 7 a 10.
Color Contraste 3 (CC3): 20 gr para tallas 1 a 4, 30 gr para tallas 4 a 7, 40 gr para tallas 8 a 10.
Color Contraste 4 (CC4): 20 gr para tallas 1 a 6, 30 gr para tallas 7 a 10.
Color Contraste 5 (CC5): 20 gr para tallas 1 a 7, 30 gr para tallas 8 a 10.
Herramientas:
Agujas circulares de 3 mm para cuello y elásticos
Agujas circulares de 3.50 mm
Cable corto de 40 cm para cuello y mangas, si no tienes disponible este cable puedes trabajar con la técnica de Magic Loop y un cable más largo.
Cable de 80 cm.
Marcapuntos de inicio de vuelta (Miv) y varios.
Aguja lanera
Tijeras
Cuentavueltas (opcional, pero muy recomendable)
Medidas finales de la prenda:
Circunferencia de pecho en cm: 88 / 92 / 97 / 108 / 118 / 126 / 137 / 150 / 157 / 175 cm.
El resto de medidas las encontrarás dentro del patrón y también en una imagen aquí a tu izquierda.
Muchas gracias y espero que te guste!!!
About this pattern
33 projects
, in 12 queues
About this yarn
Light Fingering
75% Merino, 25% Nylon
93 yards / 20 grams
338 projects
stashed 518 times
rating of
5.0
from
65
votes
More from Cecilia Losada
See them all...
First published: September 2020
Page created: September 5, 2020

visits in the last 24 hours

visitors right now