Pattern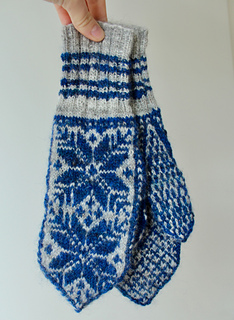 &copy Ronja Cecilie Moås
&copy MANIKNITS
&copy Ronja Cecilie Moås
&copy Ronja Cecilie Moås
&copy Ronja Cecilie Moås
Ronjas Votter
This pattern is available
for
kr.40.00 NOK
buy it now
--NORWEGIAN/NORSK--
OM VOTTENE
Størrelse: Medium dame.
Du kan endre størrelse ved å endre på strikkefastheten og garntykkelsen når du strikker vottene
Ferdige mål:
Målt etter damping uten å strekke i votten.
Lengde fra toppen av vrangbord til tuppen av votten: Ca. 21 cm.
Bredde rett over tommel: Ca. 9,5 cm
Lengde vrangbord: Ca. 8,5 cm med striper. Lengden er justerbar.
Tommellengde: Ca. 7,5 cm.
Tommelbredde: Ca. 4 cm.
Strikkefasthet:
Ca. 27 m = 10 cm i diagrammet. Vrangborden trenger ikke være en spesiell strikkefasthet, så lenge den ikke oppleves «slarkete» eller for stram rundt håndleddet.
ANBEFALT GARN
Hovedfarge: Ca. 120 m. håndspunnet garn, eller ca. 50 g Hillesvåg Ask (315 m /100 g).
Kontrastfarge: Ca 75 m. håndspunnet garn, eller 25 g Hillesvåg Ask (315 m /100 g)
Om du skulle velge å bruke et annet garn: Husk at votter i ubehandla ull er varmere og holder lengre enn votter strikket i superwash-behandlet ull. Siden superwash- garn også er syrevasket og plastbelagt, er det også et mindre miljøvennlig valg. Flerfargestrikk gjør seg velig godt i kardegarn av ull. Jo mykere ulla er, jo mer pleier den å nuppe.
TIPS TIL GARNVALG:
Sølje, Vilje og Ask fra Hillesvåg er alle gode alternativer når du strikker disse vottene. Finull pt 2 fra Rauma er også et godt valg. Om du ønsker deg tette votter som holder hendene dine varme
http://rentoppspinn.etsy.com
gjennom alle mulige stormer, kan du strikke med Tinde eller Villsaugarnet til Hillesvåg. Pass da på strikkefastheten!
Om du vil blande mitt håndspunnede garn med et kommersielt garn, kan du mikse og matche litt. Trenger du tips er det bare å spørre meg på Instagram eller Etsy!
VEILEDENDE PINNESTØRRELSE
Du trenger settpinner/strømpepinner i to tykkelser: en for å oppnå riktig strikkefasthet i flerfarge-delen av votten, samt settpinner som er 0,5 til 1 størrelse tynnere til vrangborden.
Alle strikkere er forskjellige, og forskjellige typer garn oppfører seg ikke alltid likt. Derfor kan jeg bare anbefale at du selv finner den pinnestørrelsen du trenger for å oppnå riktig strikkefasthet. For å gi deg et utgangspunkt kan jeg likevel fortelle at jeg brukte korte (15 cm) settpinner 2,5 mm da jeg strikket vrangborden, og 3 mm til diagrammet. Du kan selvfølgelig også bruke rundpinner og «magic loop»-metoden om du ønsker det.
Selv foretrekker jeg korte settpinner til vottestrikking da jeg synes «magic loop» kan gi et litt ujevnt resultat ved flerfargestrikk. Dette er bare min personlige preferanse. Du strikker, så du bestemmer!
---ENGLISH---
ABOUT THE MITTENS
Size: Ladies Medium.
You can adjust the size by knitting at a looser or tighter gauge, and by changing the yarn weight.
Finished measurements:
Measured after blocking or steaming, without stretching the mitten in any direction.
All measurements are metric.
Length from the top of the rib to the tip of the mitten: Approx. 21 cm.
Width above the thumb gusset: Approx. 9,5 cm
Length of ribbed cuff: Approx. 8,5 cm with the stripes. This is
adjustable.
Thumb length: Approx. 7,5 cm.
Thumb width: Approx. 4 cm.
Gauge: Approx. 27 m = 10 cm in the colorwork part.
The rib does not need to be at an exact gauge. Just make sure it's not too tight or loose around the wrist.
SUGGESTED YARN
Main color: Approx. 120 m. of 2-ply handspun yarn, or 50 g Hillesvåg Ask (315 m /100 g)
Contrast color: Approx. 75 m. of 2-ply handspun yarn, or 25 g Hillesvåg Ask (315 m /100 g)
If you want to use a different kind of yarn: Mittens knit in non-superwash yarn are warmer and more durable than mittens knit in superwash yarns. The superwash- treatment consists of washing the wool in acid, and then coating the fibers in plastic. This makes superwash a really environmentally unfriendly alternative. Woolen spun yarn is perfect for colorwork.
The softer the wool, the more it will pill.
SOME YARN TIPS:
If you want thicker, more isolating mittens, you can use heavy sport weight yarns. Some Norwegian choises are Tinde, Ask and Villsau from Tinde. These yarns will keep your hands really toasty on the coldest of winter days. If you want lighter, thinner mittens, you can choose Sølje and Vilje by Hillesvåg, or Finull pt2 by Rauma. You can also mix my handspun yarns with commercial yarns. If you need more tips, or you have any questions you can ask me on Instagram or Etsy!
SUGGESTED NEEDLE SIZE
You will need a set of double pointed needles in two sizes: one to get correct gauge in the colorwork part of the mitten, and a smaller one for the rib (probably 0,5 or 1 mm smaller than the ones you need for the colorwork).
All knitters are different, and yarn will behave in different ways. Because of this, I can only recommend that you as the knitter find the needle size you need to obtain gauge yourself. I can, however, tell you that i used short (15 cm)DPNs in size 2,5 mm for the rib and 3 mm for the colorwork part of the mitten. I am a fairly tight knitter. Use this as a starting point or guide when finding your needle size. You can of course use circular needles and magic loop-method if you want to.
About this pattern
13 projects
, in 11 queues
First published: March 2019
Page created: March 17, 2019

visits in the last 24 hours

visitors right now