Pattern
&copy Yucca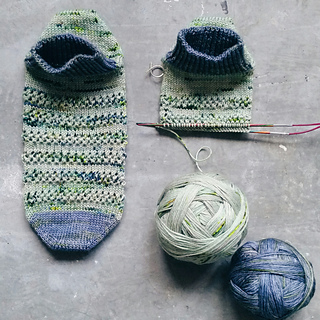 Utatane
This pattern is available
for
¥520 JPY
buy it now
20% DISCOUNT: Buy 2 patterns with code YUCCA20
30% DISCOUNT: Buy 4 or more patterns with code YUCCA30
If you put multiple patterns into your shopping cart simultaneously with the coupon code, you receive a discount. Please make sure that discounts are applied to your cart.
20% 割引: 2点以上まとめ買い+クーポン YUCCA20 使用
30% 割引: 4点以上まとめ買い+クーポン YUCCA30 使用
ショッピングカートに複数のパターンを同時に入れて(add to cartをクリック), 上記のクーポンコードを入力すると割引が適用されます. 決済を確定する前に, 割引の内容をショッピングカートの画面でご確認下さい.
---
<日本語のご案内は英文の下に記載されています。パターンの言語は日本語版・英語版がご利用頂けます。>
---
Utatane is an ankle sock with short row heel. Gaps and holes are minimum in this short row method. I added little short rows on the heel for better fit. Directions are written for the magic loop method with circular needles. Video tutorial included.
The pattern has options;

Cuff: Twisted Rib, Twisted Rib With Eyelet, Secret Rib
Foot: Stockinette stitch, Eyelet Line
Toe: Classic toe with Kitchener stitch, Easy Toe (requires no grafting)

YARN
Approx. 50-65 g of fingering weight yarn
NEEDLES
JP 0 / 2.1 mm
Adjust needle size to get correct gauge. Sample used 80 cm / 32" circular needle.
NOTIONS
Tapestry needle, markers
SIZES
Size 1 (2, 3) / 56 (60, 64) sts in the foot
Finished foot circumference: 17.5 (19, 20) cm / 7 (7½, 8)"
Recommended ease: 3-4 cm / 1¼-1¾" of negative ease
Foot and leg length: You can knit to your desired length
SKILLS REQUIRED: Work in the round, German Twisted Cast-On, picking up stitches, decreasing, increasing, Kitchener Stitch (Classic toe only)
INCLUDED VIDEO LINKS (URL & QR code):
German Twisted Cast On
TIPs for avoiding ladders (warped stitch) in magic loop
German Short Rows
How to work the Short Row Heel
SKILL LEVEL:Intermediate 3/5
TAG: #UtataneSocks #YuccaKnit
---
夏の定番になってきたmominoki yarn シルキーコットンで編む, ショートローヒールのアンクルソックスです. この靴下の踵(ショートローヒール)は, 安定した履き心地のために工夫された形状と, 引き返しの段差や穴が目立ちにくい方法になっていることが特徴です. 編み方は輪針のマジックループ式に合わせて説明されています. 動画解説付き.
選択性のオプション;
カフ: ねじりゴム編み, アイレット入りのねじりゴム編み, シークレット・リブ
フット: メリヤス編み, アイレット模様のライン
つま先: メリヤスはぎのつま先, 簡単なつま先
(メリヤスはぎ不要)
糸
中細糸 (Fingering weight) 約50〜65 g
針
US 1 / 2.25 mm またはゲージが取れるもの. 
サンプルでは80cm輪針を使用.
用具
とじ針, 目数マーカー
サイズ
サイズ 1 (2, 3) / 足囲・1周 56 (60, 64) 目
出来上がり寸法: 17.5 (19, 20) cm
推奨の出来上がり寸法: 足囲のヌード寸法からマイナス3〜4 cm程度
足底の長さ: 好みの長さに調整可能.
必要な技法: 輪編み, German Twisted CO(または、お好みのゴム編みに適した方法), メリヤス編み, 拾い目, 減目, メリヤスはぎ
動画リンク(URL & QRコード付):
German Twisted Cast On (作り目)
マジックループをきれいに編むコツ
German Twisted Cast On (ドイツ式引き返し編み)
かかと(ショートローヒール)の編み方
スキルレベル: 中級 3/5
ハッシュタグ : #UtataneSocks #YuccaKnit
More from Yucca
See them all...
Bundles with this pattern
First published: August 2020
Page created: August 14, 2020

visits in the last 24 hours

visitors right now