Pattern
&copy Romi
&copy eritml
&copy sisterknit
&copy Romi
&copy sisterknit
&copy sunshinegypsy
&copy Romi
&copy danamary
&copy Romi
&copy Romi
&copy Romi
&copy Romi
&copy Romi
&copy eritml
&copy Romi
&copy Romi
&copy eritml
&copy Romi
&copy Romi
&copy Romi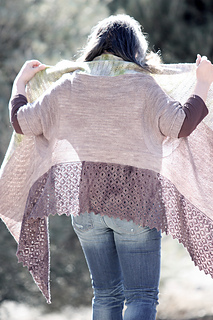 &copy Romi
Village Sweater Wrap
This pattern is available
for
$6.50
.
This pattern is currently down for maintenance and is not available for sale.
An incredibly versatile garment, this sweater - a bonus pattern in the Year 4 ebook - can be worn either with the garter lace side up, or the garter openwork side up to completely change the look and feel of your outfit. Worn with the lace side up, the sweater looks dressy; with the openwork variegated side up, the look is more casual. The openwork section can be folded into a shawl collar to provide a more tailored look. The long front gives a beautiful elongated line to the body, while the shortness of the back panel makes it almost impossible to sit on the back and stretch it out. This means the sweater will look as great after a whole day as it did in the morning when you put it on!
This sweater was on display at Stitches West, and looked great on everyone who tried it on, from petite to extra large people!
Pattern includes full written and charted instructions.
If you bought a kit at Stitches West 2015, please note the following errata:
In Middle Section C1 - work left front, Rows 7, 9, 11, 13, 15 should read repeat row 5.
Row 14, right before main Section 5 should read: Join all pieces together: knit across stitches of left front, CO 12 using backwards loop method, knit across back, CO 12 using backwards loop method, knit across right front - stitch counts are correct
Section 8, transition round should read: p2, p2tog 3 times, purl to 8 sts before marker, p2tog 3 times, p2, sl marker, p1, p2tog 3 times, knit to 8 sts before end of round marker, p2tog 3 times, p2 - stitch counts are correct
The repeat on Chart B has been corrected to include rows 5-12
sk2p tbl: sl 1 st knitwise, k2tog tbl, psso
About this pattern and the series:
It takes a village, and this sweater wrap is dedicated to my Ravelry group moderators and members, test knitters, tech editors, sample knitters, supporters, and friends who dye yarn, design apps, run Ravelry, knit with me, and all around make the fiber world such an amazing place to call home. Thank you all!
Village is a loose fitting cardigan that is more wrap than sweater. Worked in three gorgeous colors of yarn from my friends at A Verb for Keeping Warm, you can wear it two ways: with the lace edging on top, or the plainer garter edging on top. It's chic and easy to wear with jeans or a more dressy outfit, and I love the fact that there is no sewing involved.
---
Welcome to year four of my subscription series (now complete)! The idea for my first ebook subscription (year one: the pleiades) was born in 2010 while reading posts on Ravelry: people knitting 10 shawls in 2010. I decided to design and knit 10 shawls that year, and at the time I released my first subscription, I had 7 left to do. I reached my goal that year, and the next year I was back for more challenge. After that, I realized that I simply love doing these subscriptions. I won't even pretend that there's any other reason to do them! 7 is one of my favorite numbers, and so I am still doing 7 small (and not so small) shawls with 3 (my other favorite number!) accessories thrown in.
When we reached 5,000 people this year, we had a little contest in my Ravelry forum, and so the Year 4 shawls are named after 7 winners, and the accessories are named after…well, you'll see! I am so looking forward to getting to know the winners a little bit more and coming up with the perfect design for each of them!
The patterns for this eBook will be delivered to subscribers within a subscription period ending March 30, 2015. There is no specific delivery time for each pattern. Patterns will have charts and written instructions, and you will be able to make them out of one skein of sock yarn or an amount of sock yarn comparable to that needed for a pair of socks. Some will be two colors, and maybe even three! But you won't need more than one skein of any color. There will be a few little extras sprinkled throughout and all patterns will be available to purchase separately!
Note that purchasing the eBook represents a significant discount over purchasing each pattern separately. No refunds can be given for buying the patterns separately and then, at a later date, purchasing the complete eBook. If you have made a single pattern purchase in error and wished to purchase the book instead, please contact me within a week to resolve the issue. Thank you!
First published: March 2015
Page created: March 21, 2015

visits in the last 24 hours

visitors right now