patterns

>

Forming Shawls and Their Charts
Forming Shawls and Their Charts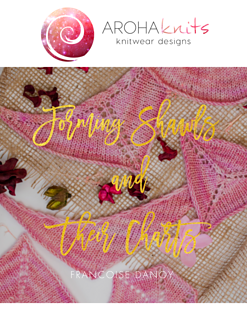 Forming Shawls and Their Charts
eBook
published in March 2016
Ravelry download
$20.00 USD
Notes
Notes
Shawls are one of the most popular types of designs and patterns in the knitting community. Versatile in shape, design elements and style, the possibilities for creating a stunning shawl design are endless.
And you want to explore all those options.
Is shawl design a concept that has often eluded you? Do you find the whole process of working a stitch pattern into a shawl shape to be a mystical and mysterious one? Or perhaps the math behind the design is most foreign.
However, they are not always easy to design, charting especially. That's where this e-book comes in.
If you enjoyed the 5 Shawls, 5 Days challenge, then this e-book is for you!
With 15 shawl shapes to explore and discover, you'll find the possibilities for shawl design and knitting endless. The first edition includes…
10 shawl shapes knit flat
5 knit in the round
… which have been test-knit and edited, to make sure that the instructions are as clear as possible (and error-free)!
Written instructions are provided to demonstrate the basic construction of the shawl, with the charted instructions to demonstrate where the increases are laid out, and how they affect the chart flow and set-up. So when you're working on your shawl charts you know exactly how to write it out!
That's not all! This e-book also includes tips and tricks for shawl design:
how to calculate stitch and row counts quickly so you know
when you can start your stitch pattern
how to adjust the garter tab cast-on numbers
how to substitute increases
how to work a stitch pattern into a shawl shape
Video tutorials are provided for some of the techniques outlined in the book, so you can dive into shawl knitting fearlessly!
A portion of pattern sales goes towards the "Spreading Aroha" initiative, where a donation is made to one of three selected charities/organizations each month.
eBook published in March 2016