The Mermaid Bundle
by Rebecca McKenzie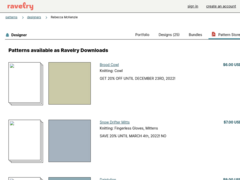 eBook
published in June 2018
Notes
Notes
DESCRIPTION:
The Mermaid Top and The Mermaid Crop Top are beautiful statement pieces that everyone needs in their wardrobe! Get this exclusive bundle right now so that you can have the best of both worlds. When you are looking for that perfect top to go over your favorite pair of leggings, choose The Mermaid Top! When you are looking for a garment to compliment your favorite dress, then choose The Mermaid Crop Top! It truly can be a choose your own adventure. Both garments are perfect for all seasons! This pattern is written for sizes XS (S, M, L, XL).
SIZES:
XS-XL (30"-46" Bust) About 1-2" of ease for a relaxed fit
DIFFICULTY LEVEL:
Advanced Beginner
You will need to know how to: cast on, knit stitch, purl stitch, yarn over, work in the round, work flat, bind off, pick up stitches.
INCLUDED:
-list of materials needed;
-gauge;
-approximate finished measurements;
-stitch guide;
-stitch abbreviations guide;
-tips for adjusting length;
-how to pick up stitches;
-picture tutorial on how to seam the shoulders
GET THE LATEST UPDATES:
Follow me on Instagram and Ravelry to get the latest updates on my pattern designs, sales, and sneak peaks!
Instagram: @ragingpurlwind
Ravelry: Raging Purlwind
This pattern is a copyright of Rebecca McKenzie of RagingPurlwind. Do not alter this pattern in ANY way and claim as your own, post to a social media platform without giving credit to the designer, or distribute for free among friends or family.
Please share your work on Instagram with the hashtag #themermaidtop and #ragingpurlwindknits so the world can see your amazing creations!
QUESTIONS OR CONCERNS:
If you have any questions or concerns, please send me a message by email at aragingpurlwind@gmail.com, Etsy chat, or DM me on Instagram @ragingpurlwind.
eBook published in June 2018 by Rebecca McKenzie
ravelry.com