The Peace Trilogy
by Maria Zilakou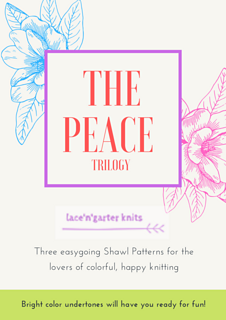 eBook
published in June 2019
Ravelry download
€12.00 EUR
Language
Available languages
English
Italian
Spanish
French
Notes
Notes
Enjoy The Peace Trilogy ebook at half price until June 30, 2019! It gives you the chance to have access to all 3 patterns as they gradually get released, updated and translated at a very friendly price!
Welcome to The Peace Trilogy series of shawl patterns!
As its name suggests it includes 3 shawl patterns, but for the time being it includes only the first pattern of the three; it will eventually be updated on fixed dates (namely on July 14 and August 15) so that all 3 patterns are included. There will also be translations of the patterns in Spanish, Italian and French and you will be notified every time a new language is available, so you can download the .pdf in your language. You know it takes time to do things correctly and I am thank ful to you for respecting this.
As always, this is a work of a group of people and I, as the designer, would like to thank them all for their contribution in my new project! My wonderful group of Test Knitters (rest assured names will be included in the final version of this ebook, so that everybody's name is in there), translators and yarnies… Feedback from them has been such a blessing! Thank you all!
The idea for this series of patterns came from the need to go through Spring and into Summer knitting and maybe create fun projects, that will be easy to carry outdoors.
All three play with eyelets, chevrons and color transitions and they have come off the needles even easier than I expected them to. They can be real stash-buster projects, as you can let yourself free and substitute yarn colors or make use of those mini skeins that are the rage these days. They are all worked on a very loose gauge on purpose: we want them to drape and be ethereal, to let the air flow through those stitches and to finish quickly (of course)!
The peace concept that gives its name to the ebook is the peace we find in doing what we love: we, knitters know how calm and happy we can be when working on a happy project. Peace of mind, peace in your hearts, peace in your lives, this is my wish for you!
Happy knitting,
Maria
eBook published in June 2019 by lace'n'garter knits
ravelry.com