Yarn
Signature 4 ply Self Striping or Patterning
from
West Yorkshire Spinners
Zandra Rhodes
Create wearable pieces of art with our six gorgeous Signature 4ply prints, the result of a creative collaboration with the legendary Zandra Rhodes. With an illustrious career spanning 50 years, which includes dressing and designing for style icons including Freddie Mercury and Princess Diana, Dame Zandra, is famous for her vivid colours and daring designs.
Her colour inspiration for our 4ply yarn collection is the Yorkshire countryside and wildflowers that she loves.
Cocktails
Just like the best cocktails, our beautiful colour blends are expertly crafted. This vibrant, multicoloured wool is inspired by the jewel-like hues and the frivolous fun of cocktail hour.
As with all of our Signature range, this 75% wool 4ply yarn is lovingly blended with 25% nylon for strength and durability. The wool content is 35% Bluefaced Leicester, an ancient British breed which adds a soft, semi-lustrous look and feel. Loved by knitters and crocheters alike, this multi-coloured, self-striping yarn in 4 fabulous shades brings a touch of playfulness to anything you create.
Country Birds
Town and country dwellers alike will adore feather-inspired creations made with the Country Birds yarn collection. Fusing natural colours from the British bird population, this 4ply, self-striping, multicoloured yarn recalls our flying friends seen across the UK: Bullfinch, Blue Tit, Owl, Mallard, Pheasant, Wood Pigeon, Goldfinch, Robin, and the always magnificent Peacock.
These striking, natural colour combinations work together with our solid accent colours from the Signature range , allowing you to create your own unique designs.
Winwick Mum
A beautifully captivating 4ply yarn produced in collaboration with the brilliant Winwick Mum (aka Christine Perry), a respected knitting blogger and a long-time supporter of our Signature 4ply range. As with all of our Signature 4ply knitting yarn, it's a beautiful blend of 75% wool with 25% nylon for added strength, making it perfect for socks.
The wool content is 35% luxurious Bluefaced Leicester, renowned for its soft and silky sheen. Christine's self-striping colour combinations are inspired by her life – from the amethyst stone she carries in her pocket to the magnificent wildflowers spotted on her daily dog walks.
About this yarn
by
West Yorkshire Spinners
Fingering
40% Wool, 35% Bluefaced Leicester, 25% Nylon
437 yards / 100 grams
12586 projects
stashed 9370 times
rating of
4.7
from
1595
votes
Page created: April 22, 2016
Last updated: October 13, 2022

…
popular colorways
6 Vintage Tinsel
121 stashed
132 projects
811 Passion Fruit Cooler
369 stashed
449 projects
818 Blue Tit
259 stashed
399 projects
822 Rum Paradise
779 stashed
1247 projects
831 Blue Lagoon
324 stashed
434 projects
840 Goldfinch
174 stashed
214 projects
844 Kingfisher
200 stashed
247 projects
845 Pink Flamingo
162 stashed
212 projects
847 Sherbet Fizz
117 stashed
141 projects
849 Fairy Lights
332 stashed
575 projects
851 Peacock
223 stashed
288 projects
855 Pheasant
255 stashed
346 projects
856 Tequila Sunrise
194 stashed
269 projects
861 Bullfinch
192 stashed
240 projects
862 Mallard
216 stashed
319 projects
864 Wood Pigeon
307 stashed
392 projects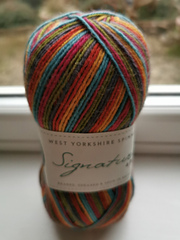 869 Hope
85 stashed
115 projects
871 Hidden Gem
165 stashed
129 projects
872 Wildflower
187 stashed
230 projects
873 Seascape
189 stashed
239 projects
874 Brightside
97 stashed
144 projects
877 Owl
192 stashed
248 projects
878 Winter Icicle
119 stashed
94 projects
879 Mojito
184 stashed
244 projects
885 Autumn Leaves
153 stashed
189 projects
886 Holly Berry
647 stashed
971 projects
906 Silent Night
116 stashed
201 projects
941 Robin
522 stashed
810 projects
989 Candy Cane
614 stashed
946 projects
1051 Vintage Tinsel
66 stashed
126 projects
1109 Gingerbread
172 stashed
231 projects
Rainbow
54 stashed
127 projects