Pattern
&copy Hunter Hammersen
&copy Hunter Hammersen
&copy Hunter Hammersen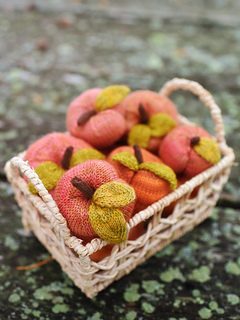 &copy Hunter Hammersen
&copy Hunter Hammersen
&copy Hunter Hammersen
&copy Hunter Hammersen
&copy Hunter Hammersen
&copy Hunter Hammersen
Peached
This pattern (along with most of my earlier work) was retired in the summer of 2022. However, it may be available for a few days once or twice a year. Read on for details!
---
---
---
In the summer of 2022, I realized that maintaining a back catalog of hundreds of patterns was kind of overwhelming. I couldn't do it and still release new things. So I took my old patterns down so I could keep doing new work.
Since then, a handful of my favorites have come back, and lovely new things have come out. But the vast majority of the old patterns are retired and will no longer be generally available.
However, enough folks have asked about some old favorites that I'm planning to make many of the retired patterns available for a few days once or twice a year (most likely in late spring and then again in the fall around Thanksgiving).
If you see the buy buttons on this page, you've caught it on one of the days it's available, and you're welcome to grab it!
If you don't see the buy buttons on this page, then it's not currently available.
If you want to hear when the retired patterns will be available, subscribe to the mailing list or patreon, or keep an eye on my instagram.
---
---
---
Peached verb informed upon or against
---
---
---
I was watching the news when I found myself suddenly possessed by the urge to knit a peach. A lovely, soft, round little peach.
I wanted the sort of thing you can squeeze if you're feeling stressed. Or throw against a wall. Or maybe even stab full of pins (call it a pin cushion and that's suddenly totally appropriate and not at all creepy).
So I knit one. And because I apparently can't help but share my frivolities with the internet, I posted it online. And then it came to my attention that more than a few of you also seemed to be in want of a peach. You asked for the pattern. And patterns are something I do, so I made it happen.
---
---
---
What to do with the sweet, silly little things:
Fill a fruit bowl with something that won't go moldy if you go out of town for a week
Hang them from your christmas tree (or maybe give one to that one relative whose politics you can't stand in the family ornament swap…totally deniable)
Add them to your favorite kiddo's play kitchen
Make them into a pincushion and stab them as needed
Mail one to your senator (perhaps with a little note explaining how you feel about some things)
Your imagination is the limit here. I suspect you already have a whole host of ideas for exactly how you could use a few of these!
---
---
---
The pattern is tremendously detailed, and gives you lots of possible variations to experiment with. You can make both the peach and the leaf in two different sizes. The pattern includes modifications for how to turn your peach into an apple. And there are also ideas for how to turn your peach (or apple!) into a pin cushion.
This is easy knitting (the fruit is nearly all stockinette in the round, the leaf is mostly stockinette worked flat, and it's about as many stitches as are in a pair of sock toes), and you can probably make one of these in an afternoon.
And just in case you're feeling a bit nervous, the pattern includes a lengthy photo tutorial to walk you through every step of the process. There are all sorts of helpful tips on everything from what to fill them with to how to block them to how and when to weave in your ends. It's almost absurdly detailed, but it really does mean you can totally make these!
---
---
---
These are perfect for you if:
You've been feeling a little ragey lately
You suddenly find yourself filled with the urge to take a selfie in front of your senator's office and spread the im(peach)ment vibes
They're not for you if:
You are delighted with the state of politics at the moment
You don't like charts (the pattern uses charts)
---
---
---
About this pattern
66 projects
, in 141 queues
More from Hunter Hammersen

See them all...
First published: October 2019
Page created: October 10, 2019

visits in the last 24 hours

visitors right now