Pattern
&copy Tanja Koenigs
&copy Tanja Koenigs
&copy Tanja Koenigs
&copy Tanja Koenigs
&copy Tanja Koenigs
&copy Tanja Koenigs
&copy Tanja Koenigs
&copy Tanja Koenigs
&copy Tanja Koenigs
&copy Tanja Koenigs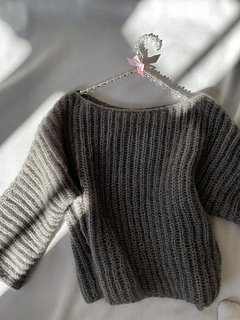 &copy Tanja Koenigs
ULLA Shirt
This pattern is available
for
€8.00 EUR
buy it now
or
visit pattern website
This pattern is available in german and english (description below).
BESCHREIBUNG
Das ULLA Shirt ist ein schlichter Pullover im Patentmuster mit U-Boot-Ausschnitt, leicht verkürzten Ärmeln und einem geraden, kurzen Schnitt. Inspiriert wurde es von Shirts im Stil der 60er Jahre.
Das Modell wird von oben in einem Stück gestrickt, indem die Maschen für das gesamte Rückenteil inklusive der Ärmel angeschlagen werden. Der Ausschnitt und die Schulterpartie werden mit verlängerten Reihen geformt und anschließend bis zu den Armausschnitten gerade herunter gestrickt.
Die Maschen für das Vorderteil werden aus dem Rückenteil aufgefasst und dieses (fast) gegengleich gearbeitet. Anschließend werden die Ärmel an der Unterseite zusammengestrickt und der Rumpf in Runden beendet. Es ist kein Zusammennähen nötig. Der Halsausschnitt wird zum Schluss, je nach Vorliebe, umhäkelt oder elastisch abgekettet.
Die 14-seitige ausführliche Anleitung ist Schritt für Schritt beschrieben. Für die verlängerten Reihen an Vorder- und Rückenteil gibt es jeweils eine technische Zeichnung zum Abstreichen der Wendepunkte. Einige Stricktechniken werden zusätzlich mit Hilfe von Videos gezeigt. Diese sind nicht Bestandteil der Anleitung und eine Linksammlung hierzu und rund um das Shirt findest Du unter Stricktechniken.
Eine umfangreiche Modellskizze mit allen Maßangaben erleichtert dir das Umrechnen. Die blanko Skizze kann für Umrechnungen oder Notizen genutzt werden.
PASSFORM 1 von 5 (Positive Ease 10-20 cm)
SCHWIERIGKEITSGRAD 4 von 5 (Top Down, Verlängerte Reihen, Patentmuster)
GRÖSSEN UND MAßE
XS (32/34) S (36/38) M (40/42) L (44/46) XL (48/50) XXL (52)
Größenfinder für deinen Brustumfang 74-82 (82-90) 90-98 (98-107) 107-119 (119-131) cm
Maße des fertigen Strickstückes:
Brustumfang 91 (98) 105 (116) 127 (138) cm
Mehrweite zum Brustumfang (musterbedingt unterschiedlich) 13 (12) 11 (14) 14 (13) cm
Einfache Breite unter dem Arm 45,5 (49) 53 (58,5) 64 (69) cm
Höhe ab Schulterbeginn 50,5 (51) 52,5 (53,5) 55 (57) cm
Ärmelbreite 16,5 (17) 18,5 (19,5) 21 (23) cm
Das Model auf dem Foto ist 164 cm groß und trägt Größe XS (braunes Shirt) und Größe S (pinkes Shirt) bei einem Brustumfang von 85 cm.
MASCHENPROBE UND MUSTER
Vollpatent mit Umschlägen mit Nadel 6 mm bzw. passend zur Maschenprobe 10 x 10 cm:
11 Maschen x 28 Reihen (14 Patentreihen)
Beachte, dass beim Zählen der Reihen 2 gestrickte Reihen/Runden einer rechten Patentmasche entsprechen!
WOLLE UND VERBRAUCH
Das braune ULLA Shirt wurde 4fädig aus Sensai von Ito in der Farbe caramel gestrickt.
3fädig Soft Silk Mohair von Knitting for Olive 225m/25 g (70 % Mohair, 30 % Seide)
oder 4fädig Sensai von Ito 240m/20 g (60 % Mohair, 40 % Seide)
oder 4fädig Premia von Lamana 300m/25g (60 % Mohair, 40 % Seide)
Gewicht auf 1 m beim 3- bzw. 4fädigen Stricken 0,33 g/m
Übersicht über den Verbrauch bei den verschiedenen Garnen und Alternativgarne siehe Foto.
WICHTIGE HINWEISE
Bei diesem Modell werden die Maschen für die gesamte Breite des Shirts (Ärmel-Schulter und Ausschnitt) auf einmal angeschlagen. Ein späteres Kürzen der Ärmel ist nicht möglich!
Bitte achte darauf, dass der Maschenanschlag im Schlingenanschlag nicht zu locker wird, ggfs. hierfür eine oder eine halbe Nadelstärke kleiner wählen.
Der Ausschnitt muss zum Schluss bearbeitet werden und hier kannst Du auf die fertige Weite des Shirts noch Einfluss nehmen, je nachdem welche Technik Du verwendest.
Sollten sich die Ärmel dennoch später etwas aushängen, so kannst Du entlang der inneren Schulter-Ärmel-Naht mit der Häkelnadel eine Kettreihe arbeiten und somit dem Ärmel und der Schulterpartie mehr Stabilität geben. 
NADELN
• Rundstricknadel 6 mm, je nach Größe 70 – 100 cm lang
• Zur Maschenaufnahme des Rückenteils und anschließendem Abketten der Ärmel, wenn vorhanden entweder auch eine 6 mm Rundstricknadel (70 – 100 cm lang) verwenden oder ggfs. auf eine oder ½ halbe Nadelstärke kleiner ausweichen, je nachdem was vorhanden ist
• Stricknadel oder Nadelspielnadel 7 mm zum Zusammenstricken der Ärmel und zum Abketten des Halsausschnittes
• Stricknadel oder Nadelspielnadel 5 mm zum elastischen Abketten am Saum
ZUBEHÖR
Maschenmarkierer: 4mal Farbe 1 (Randmaschen), 2mal Farbe 2 (rechter Ausschnitt), 2mal Farbe 3 (linker Ausschnitt), 2mal Farbe 4 (Kennzeichnung der Wendepunkte), 4mal zum Einhängen, Vernähnadel und Schere
STRICKTECHNIKEN
Schlingenanschlag
Patent mit Umschlägen
Verlängerte Reihen mit Wickelmaschen
Zusammenstricken und gleichzeitiges Abketten von Maschen
Elastisches Abketten mit Umschlägen
Videos und Linksammlung www.lotilda.de/ulla-shirt-links
TIPP: Evtl. bereits bei der Maschenprobe mit einem Schlingenanschlag arbeiten, um dort das spätere elastische Abketten/Umhäkeln des Ausschnittes zu testen (siehe Fertigstellung Ausschnitt). Außerdem kannst Du auch anstatt die Maschenprobe normal abzuketten, das elastische Abketten für den späteren Saum üben.
DESCRIPTION
The ULLA shirt is a simple pullover worked in brioche stitch, featuring a boat neckline, slightly shortened sleeves, and a straight, short, cut. The design is inspired by 60s style shirts.
This model is worked top-down in one piece, by initially casting on the stitches for the entire back as well as the sleeves. The neckline and shoulders are then shaped with short rows and then worked straight down to the armholes.
The front part is worked (almost) in the opposite direction. You will then knit the bottom of the sleeves together, and finish working the body in rounds. No sewing is necessary. Finally, and depending on your preference, you can either crochet around the neckline to tighten the fit or use an elastic bind-off technique.
These 14-page detailed instructions contain step-by-step descriptions. You will also find a technical sketch for marking off the wrapping/turning stitches for the short rows at front and back. Some of the knitting techniques are shown with the help of videos. These are not part of this pattern, but you will find a collection of links to these and other techniques in this pattern under "knitting techniques".
FIT 1 out of 5 (Positive Ease: 10-20 cm)
DIFFICULTY LEVEL 4 out of 5 (Top Down, Short rows, Brioche Stitch)
 
SIZES AND MEASUREMENTS
XS (32/34) S (36/38) M (40/42) L (44/46) XL (48/50) XXL (52)
Sizes are based on the following bust measurements 74-82 (82-90) 90-98 (98-107) 107-119 (119-131) cm
Measurements of the finished piece:
Bust circumference: 91 (98) 105 (116) 127 (138) cm
Extra width to bust circumference (positive ease – variable according to size) 13 (12) 11 (14) 14 (13) cm
Single width, measured under the arms: 45.5 (49) 53 (58.5) 64 (69) cm
Height, measured from shoulder 50.5 (51) 52.5 (53.5) 55 (57) cm
Sleeve width: 16.5 (17) 18.5 (19.5) 21 (23) cm
The model in the photo is 164 cm tall and wears a size XS, for a bust circumference of 85 cm.
KNITTING GAUGE AND PATTERN
In Brioche Stitch, on a 6 mm needle, or needle size to match the gauge:
11 stitches x 28 rows (14 brioche rows) = 10 x 10 cm
When counting the height stitches, 1 brioche stitch corresponds to two rows or rounds (2 rounds = 1 brioche round)
NEEDLES
6 mm circular needles, 70 to 100 cm long
To pick up stitches from the back cast-on edge, and for binding off the sleeves, you can either use a second 6 mm circular knitting needle (70 to 100 cm long), if available, or you can use a needle that is one or half a needle size smaller.
7 mm circular, straight or double pointed needles to bind the sleeves together, and to bind off the neckline
5 mm circular, straight or double pointed needles for the elastic bind off at the hem
KNITTING TECHNIQUES
Backward loop cast-on
Brioche stitches with yarn-overs
Wrap and turn short rows in brioche stitch pattern
Knitting stitches together and binding them off at the same time
Elastic bind-off with yarn overs
You will find tutorial videos and help links at: www.lotilda.de/ulla-shirt-links
TIP: When you work your test sample, cast on with the backward loop method, so you can test the elastic bind-off/crochet bind-off at the neckline (see finishing the neckline). In addition, practice the elastic bind-off that you will use for the hem when finishing the test sample.
About this pattern
8 projects
, in 47 queues
About this yarn
Lace
60% Mohair, 40% Silk
262 yards / 20 grams
7753 projects
stashed 5568 times
rating of
4.9
from
1300
votes
More from Tanja Koenigs

See them all...
First published: March 2022
Page created: March 25, 2022

visits in the last 24 hours

visitors right now