Pattern
&copy Yucca
&copy Yucca
&copy Yucca
&copy Yucca
&copy Yucca
&copy Yucca
&copy Yucca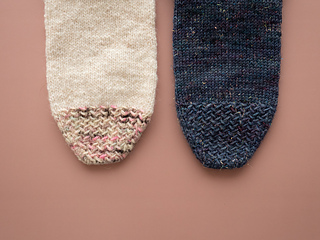 &copy Yucca
&copy Yucca
&copy Yucca
&copy Yucca
&copy Yucca
&copy Yucca
Vega
This pattern is available
for
¥600 JPY
buy it now
20% DISCOUNT: Buy 2 patterns with code YUCCA20
30% DISCOUNT: Buy 4 or more patterns with code YUCCA30
If you put multiple patterns into your shopping cart simultaneously with the coupon code, you receive a discount. Please make sure that discounts are applied to your cart.
20% 割引: 2点以上まとめ買い+クーポン YUCCA20 使用
30% 割引: 4点以上まとめ買い+クーポン YUCCA30 使用
ショッピングカートに複数のパターンを同時に入れて(add to cartをクリック), 上記のクーポンコードを入力すると割引が適用されます. 決済を確定する前に, 割引の内容をショッピングカートの画面でご確認下さい.
---
<日本語のご案内は英文の下に記載されています。パターンの言語は日本語版・英語版がご利用頂けます。>
---
Vega socks are cuff-down socks with lovely texture heels and toes created by herringbone stitch. Leg and instep have five options; three different cable patterns, ribbing, and stockinette stitch. Please refer to the samples on page 2 to choose the options.
Directions are written for the magic loop method with circular needles. The stitch patterns are charted only. Video tutorial links are included.
The pattern includes options of;
Cuff: 1×1 Half Twisted Rib, 3×1 Rib
Leg and Instep: Stockinette st, three types of Cable Chart, 3×1 Rib
Directions of the gusset: for the heel in MC, for the heel in CC
Toe: Herringbone st, Stockinette st, Toeless

SIZES
Size 1 2, 3, 4 / 56 60, 64, 72 sts in the foot
Finished foot circumference with stockinette st on the instep: 17.5 19, 20, 22.5 cm / 7 7½, 8, 9"
Recommended fit: approx. 2-3 cm / 1-1¼" of negative ease, in foot circumference.
Foot and leg length: adjustable
GAUGE
32 sts & 42 rnds = 10 cm/4" in stockinette st
Around 33-36 sts = 10 cm/4" in Cable Chart A-C
Note: If you choose the cable chart option, gauge swatching for charts is also important.
YARN
Fingering weight yarn: approx. 60-90 g
Note: The amount of yarn used will vary depending on the length of the leg and foot.
NEEDLE & NOTIONS
US 0 / 2.0 mm to US 11⁄2 / 2.5 mm circular needle
Adjust needle size to obtain gauge. 80 cm / 32" circular needle is used for samples.
Tapestry needle
Stitch markers
Cable needle (optional)
INCLUDED VIDEO LINKS (URL & QR code):
German Twisted Cast On
TIPs for avoiding ladders (warped stitch) in magic loop
Closing the Heel Gap in Cuff Down Socks
Kitchener Stitch for Socks without Ears
How to Knit Jogless Stripes
You can watch the public videos on my YouTube channel.
https://youtube.com/c/yucca
SKILL LEVEL:Intermediate 3/5
Tag : #vega_socks #YuccaKnit
---
つま先とかかとに織地のようなヘリンボーン模様を入れて編む靴下です. レッグと甲の模様は, 全部で5種類―3種類のケーブル模様, リブ模様, メリヤス編み―のオプションから選べます. オプションの選び方は, 2ページの作例を参考に選んでください.
靴下は履き口から編みます. 編み方は輪針のマジックループ式に合わせて説明されています. 模様編みはチャートで収録されています. 動画解説のリンク付き.
<選べるオプション>
カフ: ねじり目リブ, 3×1リブ
レッグ・甲の模様: メリヤス編み, ケーブル模様×3種類, 3×1リブ
ガセットの編み方: メインカラーで編むかかと, 配色で編むかかと
つま先: ヘリンボーン・ステッチ, メリヤス編み, トウレス

サイズ
サイズ 1 (2, 3, 4) / 足囲・1周 56 (60, 64, 72)目
足囲・出来上がりサイズ (甲がメリヤス編みの場合): 17.5 19, 20, 22.5 cm
推奨のフィット寸法: 素足の足囲からマイナス2〜3cm
レッグ・底の長さ: 好みの長さに調整可能
ゲージ
メリヤス編み 32目 42段 (周) = 10cm
Cable Chart A〜C 33〜36目程度 = 10cm (推奨値)
ノート: Cable Chartのオプションを選択する場合は, チャートのゲージも必ずスワッチを編んでゲージを確認してください.
糸
中細糸 (Fingering weight): 約60〜90g
ノート: 糸の使用量はレッグと底の長さによって前後します.
針・用具
US 0号 / 2.0mm ~ JP 1号 / 2.4mm 輪針

針はスワッチを編んで指定のゲージが取れるサイズを選ぶこと. サンプルでは80cm輪針を使用.
とじ針
目数マーカー
なわ編み針 (オプション)
動画リンク(URL & QRコード付):
German Twisted Cast On (作り目)
マジックループをきれいに編むコツ
かかとの段差をとじる方法
つま先のメリヤスはぎ・両端をなだらかに仕上げる一工夫
How to Knit Jogless Stripes / ストライプの段差を目立たなくする編み方
一般公開の動画はYouTubeチャンネルでもご覧頂けます
https://youtube.com/c/yucca
スキルレベル: 中級 3/5
ハッシュタグ: #vega_socks #YuccaKnit
About this pattern
44 projects
, in 17 queues
More from Yucca
See them all...
Bundles with this pattern
First published: July 2021
Page created: July 15, 2021

visits in the last 24 hours

visitors right now