&copy Shawn Torres
&copy 2Sticks1String
&copy moodybq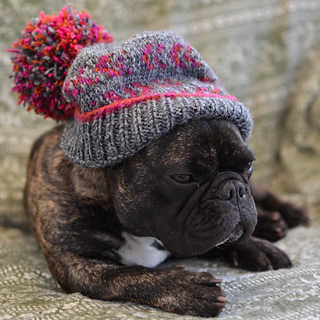 &copy vex8
&copy nerdymama42
&copy Shawn Torres
&copy Shawn Torres
&copy Shawn Torres
&copy Shawn Torres
&copy Shawn Torres
@$$ Backwards @$$hat
This pattern is available for free
Yarn usage is an @$$timate-I did not have full skeins and I did not use up all my yarn, so I used less than one skein on my main color and a lot less of the contrasting colors. For this hat you will need a MC (I used dark grey) and two contrasting colors (I used two different blues).
So, everyone knows an @$$hat. Now you can make one-for that special @$$hat in your life. I buttcracked the code so to speak. Using the binary code (comprised of ones and zeros) for @$$ as a base in my fair isle chart I have staggered the word @$$ back and forth so that it has turned into a unique piece of art. Then, just for fun I wanted to make it @$$ backwards and now we have even more fun! I got the binary code idea from this awesome pattern by Tracy Tolly-quite ingenious if you ask me!
Now, when someone says, "Hay! Can you make me a hat?" Instead of coming up with an excuse of why you can't knit something…give yourself a secret evil grin and say, "oh, I have just the hat for you." The best part is not even telling them they are now actually wearing an @$$hat. You keep that little gem of knowledge just for yourself and the select few who would gain satisfaction from knowing the evil truth.
I cannot be held responsible for any butt whoopings that result in the aftermath of actually going through with this evil deed…but if you share your project on Ravelry of your clueless recipient wearing the hat I'll happily include it on the pattern page so fellow knitters can share in your secret evil deed….We can all exchange under the table high fives and stuff.
Feel free to play with the charts-incorporate them as a secret message in any project!
This pattern is written for in the round. Use your preferred method-DPNs or circular needles.
This hat should fit an average sized adult. My head size is 21.5" and there is still room for stretch. You could go up or down a needle size to get a little different size if desired.
As always, I try to help people conserve ink, take care when printing to only select the pages you need.
I have not had this pattern tested at all, do let me know if you encounter any errors, I'll be happy to correct them. I am publishing it today, on my 40th birthday…I find it very gratifying to put this one out there as a gift to Ravelry for all the awesomeness that has been given me throughout these many fun years I've been a part of this community.
Page created: December 4, 2015

visits in the last 24 hours

visitors right now