Pattern
&copy Lanka-Liisa
&copy Liisa Lanka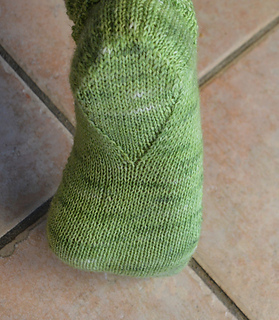 &copy Natfronton
Apilat
Inspired by an old Finnish stranded pattern, these socks were created to appear as part of the Sock Design Party Collection 1 E-book (July 2017).
The pattern is available independently also in English and Finnish.
The individual pdfs can be found in the top "download" box, the French pattern collection in the bottom one.
There are three sizes: S (M, L). The foot is knit with 60 (66, 72) sts.
Obtaining gauge is not essential, as you can modify the fit by changing needles.
There are additional stitches in the stranded section.
Meterage / yardage:
Main colour size 200 m (250 m, 310 m) / 220 yds (180 yds, 350 yds)
Contrast colour 1: ca. 60 m / 65 yds
Contrast colour 2 (clovers): ca. 30m / 35 yds
---
Inspirées d'un vieux motif de jacquard finlandais, ces chaussettes ont été créées pour l'e-book Sock Design Party Collection 1 (juillet 2017).
Le patron est disponible indépendamment de l'e-book en anglais et en finnois, ainsi qu'en français.
Les pdf individuels se trouvent dans le cadre "downloads" supérieur. Le cadre inférieur contient un lien vers la collection.
Il y a trois tailles dans le patron, S (M, L).
Le pied est tricoté avec 60 (66, 62) m et la largeur de la chaussette peut être modifiée par la taille des aiguilles utilisées.
Des mailles supplémentaires sont ajoutées pour la partie jacquard.
Métrage:
Couleur principale env. 200 m (250 m, 320 m)
Couleur contrastante 1 : env. 60 m
Couleur contrastante 2 (les trèfles) : env. 30 m
---
Eeva Haaviston Sata Kansanomaista Kudinmallia -kokoelmassa esittelemä apilaketju on näiden sukkien inspiraation lähteenä.
Ohje ilmestyi ranskan kielellä osana Sock Design Party Vol. 1 -kokoelmaa (heinäkuu 2017) ja se on ladattavissa itsenäisesti myös suomeksi ja englanniksi.
Yksittäiset ohjeet löytyvät ylemmästä downloads-laatikosta, linkki ranskankieliseen kokoelmaan alemmasta.
Kokoja on kolme S (M, L).
Jalkaosa neulotaan 60 (66, 72) silmukalla, kirjoneuleosion kohdalla työssä on enemmän silmukoita.
Lankamenekki:
Pääväri: 200 m (250 m, 320 m)
Kuvioväri 1: n. 60 m
Kuvioväri 2 (apilat): n. 30m
Page created: July 20, 2017

visits in the last 24 hours

visitors right now