Pattern
&copy sarahjanedesigns
&copy sarahjanedesigns
&copy sarahjanedesigns
&copy sarahjanedesigns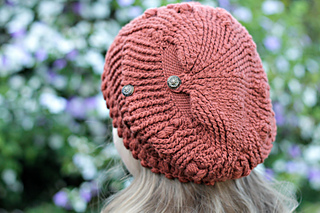 &copy sarahjanedesigns
&copy sarahjanedesigns
Frostberry Hat
This is an intermediate to advanced pattern. It comes with a chart of the pattern stitch to aid you with your hat. It requires a knowledge of post stitches and a willingness to follow a reasonably tricky stitch pattern, although once you've done it a couple of times it becomes easier :).
Frostberry hat has been kindly translated into Italian by Veruska and now has a separate pdf in Italian included with the original English version.
Cappello Frostberry è stato gentilmente tradotto in italiano da Veruska e ora ha un pdf separato in italiano incluso con la versione originale inglese.
Frostberry Hat has also now been translated into German by AkinnaStisu, thank you. There is a separate german pdf now included with the pattern download.
Frostberry is a textured, cable pattern using puff stitches to accent crocheted cables. Warm and stylish for Fall and Winter.
Make a stylish set using my cowl pattern as well.
This can be successfully made using a fine DK weight yarn or a sports weight yarn as long as you can achieve gauge. The cables and puff stitches really 'pop' when using a yarn that gives a good stitch definition.
Frostberry Hat make a lovely set when worn with the Frostberry Cowl pattern and there is a discount when you buy the two together.
Frostberry comes in the following sizes…
Small (S): 21" 53.5cm
Medium (M): 22" 56cm
Large (L): 23" 59cm
Extra large (XL): 24" 61cm
It uses 400 - 440yds of DK or sports weight yarn.
Frostberry has been tested by the wonderful testers in The Happy Hookers Hangout.
This pattern has been tech edited by the wonderful (and patient) boricuacrochet who can be found here on Ravelry if you are in need of a tech editor.
I am always available via PM or email for comments and questions.
Frostberry Mütze
Diese Anleitung ist mittelschwer bis anspruchsvoll. Eine angefügte Häkelschrift für den Musterteil hilft Ihnen bei Ihrer Mütze. Vorausgesetzt werden Reliefstäbchen als Technik und die Bereitschaft, einem ziemlich kniffligen Maschenmuster zu folgen, das allerdings schon nach ein paar Wiederholungen immer einfacher wird :).
Dank der freundlichen Unterstützung von Veruska und AkinnaStisu ist die Anleitung für die Frostberry-Mütze in deutsch, englisch und italienisch erhältlich. Die Übersetzungen in deutsch und italienisch werden der Original-Version jeweils als eigenständige PDF angehängt.
Ein strukturiertes Zopfmuster, das mit Büschelmaschen die gehäkelten Zöpfe noch betont. Warm und stylish für den Herbst und den Winter.
Machen Sie sich ein modisches Set mit dem dazu passenden Cowl nach meiner Anleitung.
Am besten benutzen Sie ein relativ feines Garn ("fine DK" oder "Sports weight"), wichtig ist vor allem, dass die Maschen-probe korrekt ausfällt.
Die Zöpfe und Büschelmaschen heben sich richtig gut ab, wenn Sie ein Garn benutzen, das die Maschen gut.
Die Frostberry-Mütze gibt ein hübsches Set zusammen mit dem Frostberry Cowl und wenn Sie beide Anleitungen zusammen kaufen, gebe ich einen Rabatt darauf.
Frostberry kommt in folgenden Größen …
Small (S): 53,5 cm
Medium (M): 56 cm
Large (L): 59 cm
Extra large (XL): 61cm
Benötigt werden 365 bis 405 m Garn in DK- oder Sports-Weight-Qualität.
Frostberry wurde von wunderbaren Testern im The Happy Hookers Hangout test-gehäkelt.
Diese Anleitung wurde tech-edited von der wundervollen (und geduldigen) boricuacrochet, die auch hier auf Ravelry zu finden ist, falls Sie mal einen Tech-Editor brauchen.
Für Kommentare und Fragen bin ich jederzeit per email erreichbar, allerdings bitte nur auf englisch!
First published: September 2013
Page created: September 20, 2013

visits in the last 24 hours

visitors right now