patterns

>

Lattes and Llamas

>

GAL 33: Lord of the Rings
Pattern
&copy Lattes and Llamas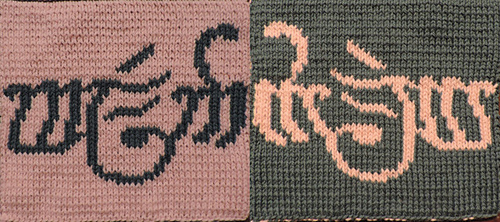 &copy Lattes and Llamas
&copy Lattes and Llamas
GAL 33: Lord of the Rings
This pattern is
available for free.
Pattern is HERE
FAQ is HERE
Welcome to week 33 of the 2014 Geek-A-Long, a mystery blanket knit-along (or crochet-along for you rebels out there)! Can you believe there are only 15 more squares to go after this? If you're new to the GAL craziness, check out the Geek-A-Long FAQ page for more details and information. For the seasoned pros, let's talk about LotR.
The Lord of the Rings is one of those book series that just about every literate adult has heard of. First published in 1954, Tolkien's series has sold over 150 million copies worldwide. There are college courses devoted entirely to analyzing the books and when the movies came out, the books enjoyed a new surge of popularity.
I had originally thought to put the golden ring on this square, but no matter how hard I tried it kept looking lame. In a burst of genius, Doctor Cappuccino suggested I put the elvish word for "friend" on. I love how it turned out, plus, now this blanket will get you into Moria.
First published: August 2014
Page created: August 20, 2014

visits in the last 24 hours

visitors right now