Jayne's Hat: Ma Cobb's Misadventures in Knitting
by lirantha
patterns

>

Notinknit

>

Jayne's Hat: Ma Cobb's Misadventures in Knitting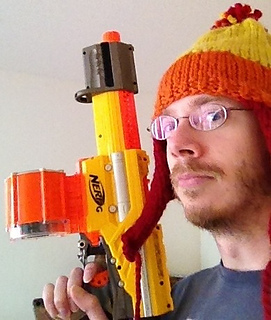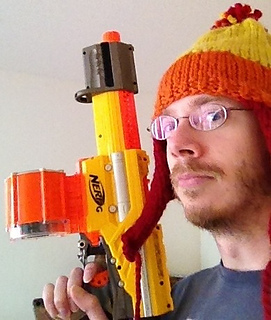 &copy lirantha
&copy lirantha
&copy lirantha
&copy lirantha
&copy lirantha
&copy lirantha
&copy lirantha
&copy lirantha
Jayne's Hat: Ma Cobb's Misadventures in Knitting
This pattern is available as a
free Ravelry download
Jayne Cobb's cunning hat (from the episode "The Message" of Firefly) is one of those things that random people on the street may ask you to make for them when they find out you knit. If you, like me, are a little OCD and want not just a hat that is recognizable as Jayne's, but something the props department might have (briefly) mistaken for it, this is the idiosyncratic pattern for you.
I used Lion Brand Wool-Ease Thick & Quick because that's what I had on hand, but any super bulky yarn should work.* 3-ply is preferable for reasons discussed in the pattern. You'll need approximately 50 yards of yellow, 25 of orange, and 25 of red. (For the purists: note that the "red" is really more of a burnt orange; if you're using the Wool-Ease, you'll want Mustard-158 for the yellow, Pumpkin-133 for the orange, and Spice-135 for the "red".)
---
UPDATE, Dec. 2014: *Several knitters have had trouble with sizing this as written with different yarns. Be sure to check your gauge! A thick super bulky yarn works best. For reference, gauge on the yarn band for mine is listed as 9 sts in 4 inches/10 cm, and 3-4 wpi (rather than the 5-6 that Ravelry uses to categorize yarns as super bulky). If you're still having trouble, don't be afraid to go up a needle size or two! A larger needle will just make the fabric feel looser and not as stiff to the touch. Blocking (or the first trip through the washer, depending on your yarn) will also make knitted fabric relax slightly if it feels too tight at first. Many thanks to everyone who took the time to provide feedback. :)
---
The picture of the yellow earflap next to a screenshot shows what the earflaps look like when knit according to the pattern. I hadn't quite got the design right yet in the other pictures.
I started from the pattern by Renee Peterson on Keiyla's Blog. But after I started counting stitches in her screenshots (just to figure out where to put the earflaps, I swear!), I got a bit obsessed with explaining the other oddities of this hat. Five weeks and four (and a half) Jayne hats later, here's a pattern that is as close as I can make it to what I think we're seeing on the screen.
In the absence of the original (and I did try to track down the original, but didn't feel like emailing the good folks over at California Browncoats who ran the auction to find the person who bought it), my version is certainly still inaccurate. But I had fun writing the story of the hat - Ma Cobb's Misadventures in Knitting - to try to make sense of it anyway. Enjoy!
The PDF download of the pattern is a nine-page document with instructions, a justification for my interpretation of the hat, and a step-by-step narrative explanation for how this hat came to be knitted so… uniquely. As far as I am concerned, you may use this pattern to knit gifts or items for sale. If you decide to sell hats made with this pattern, though, please consider donating 10% of the proceeds to charity. The sale of the original hat benefited the Marine Corps - Law Enforcement Foundation.
UPDATE, April 2013: Given Fox's recent decision to lay the legal smackdown on people selling handmade Jayne hats, I've been doing some investigation. Currently, the lawyers are going after sellers of the hats rather than designers/sellers of patterns, but that could change. Here's what I've got:
1) There were two hats originally made by a staffer, according to Adam Baldwin at the Firefly 10 year anniversary Comic-Con panel (as blogged by Alan Sepinwall, repeated by other audience members/fans in various other places online). This may explain why working out the exact pattern was so difficult… but it also raises questions about who would own the original design: Fox, or the woman who actually made it. Do creators whose products appear in a movie or television show automatically lose the rights to their creations? I don't think so. Not a lawyer, but I think Fox would have to show that a clause to that effect was in that particular staffer's employee contract or waiver, before they could claim ownership of the design. (Now, that's a pretty industry standard kind of thing to put in employee agreements - but still, burden of proof.)
2) There seems to be some additional legal fuzzy ground here that Fox is exploiting, under the assumption that they can pay for better lawyers than we can - which, granted, is a pretty good bet. The question is whether clothing itself can be copyrighted, since it is a "useful article." This has traditionally been subject to a "separability" test, which opens up a whole other can of worms. Fox would have to claim that the color combination was a separable design feature from the hat itself, because clearly they can't claim to own earflap hats with pom-poms on top.
3) It sounds as if making reference to Firefly (e.g., referring to the hat as a "Jayne" hat in the title or tags of your listings) is what would give Fox more definite legal grounds for prosecuting you for trademark violations - although at that point, we'd be justified in asking why it took them 10 years to enforce their trademark. But I imagine if you posted a picture of the hat, without screenshots, tags, or descriptions associated with the show, and called it something like "Cunning space mercenary luminescent insect hat", you'd be fine. Furthermore, putting "Boo, Fox!" (substitute your own terms of disapprobation) over top of a screenshot would be considered political speech and thus protected under the First Amendment in the U.S. While you're at it, you could try sewing on a little Fox logo with a big red X through it, and selling them as protest headgear. Or just do this. Or this.
4) Unfortunately, there's nothing we can do about Etsy removing listings, even those that legally avoid any copyright or trademark infringement, except complain and hope they change their policy. As a private company, they're free to forbid the sale of anything yellow on every second Tuesday on their site, if they so choose. To the extent that Fox's tactics of intimidation are effective, it's because it's not worth it for Etsy to risk legal action on behalf of a small percentage of their users.
Other topical links:
All of which is to say - the pattern is free. Sell at your own risk. And if anyone feels like making these by the boxful and distributing them for free at Browncoat conventions to anyone who agrees that Fox doesn't deserve to make more money off the show they thoughtlessly trashed 10 years ago… then, sir or madam, sign me up to knit some more.
free!
download
About this pattern
73 projects
, in 61 queues
About this yarn
Super Bulky
80% Acrylic, 20% Wool
106 yards / 170 grams
rating of
4.0
from
9757
votes
65979 projects
stashed 26762 times
More from lirantha
See them all...
Page created: December 23, 2012

visits in the last 24 hours

visitors right now