Pattern
&copy 2016 Yarntivity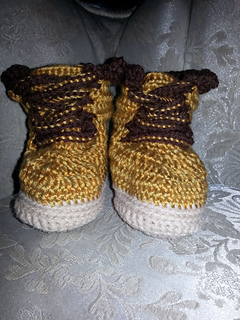 &copy 2014 Yarntivity, Casey Pilley
&copy 2014 Yarntivity, Casey Pilley
&copy 2014 Yarntivity, Casey Pilley
&copy 2014 Yarntivity, Casey Pilley
&copy 2014 Yarntivity, Casey Pilley
Little Man Work Boots
This pattern is available
for
$2.50 USD
buy it now
ADD ALL THREE "LITTLE MAN" SERIES PATTERNS TO YOUR CART NOW AND GET THE HAT PATTERN FREE AT CHECKOUT! The discount will automatically show in your cart at checkout :)
Little Man Work Jacket -
http://www.ravelry.com/patterns/library/little-man-work-jacket
Little Man Work Hat -
http://www.ravelry.com/patterns/library/little-man-work-hatlink text
Little Man Work Boots
by Yarntivity, Casey Pilley
Kids love to emulate their loved ones around them. I remember wearing my mother's heels and scarves thinking "Now FINALLY I'm an adult!" Why not start them off early :) We are their best tools to learn about the world and that feeling of equality was nothing short of awesome. I will never forget the high heel days of my childhood (lol) now you can begin those memories right when they are born and create some very awesome photo moments. I am so glad you are letting me be a part of that with you! These are pretty straight forward. There is only one "tricky" spot but once you look at it, you will totally get it and be done before you know it! Did I mention these aren't just for the boys :) I have actually made a pair using girly colors and my goodness they are too cute for words! You can see a picture of them at the bottom of this pattern and also posted on Ravelry :) Now let's get started with our very own Yarntivity :)
STITCHES / ABBREVIATIONS USED:
Ch – Chain-yo, pull thru loop
Sl st – Slip Stitch-insert hook into next stitch, yo pull thru all loops on hook
Sc – Single Crochet-insert hook into next stitch, yo pull thru 2 loops, yo pull thru 2 loops
BlSc – Back Loop Single Crochet-Insert your hook into the back loop (instead of under both loops like normal) of the stitch-Regardless of whether you are on RS or WS, the back loop is ALWAYS the loop away from you-yo, pull thru loop, yo, pull thru 2 loops on hook.
Sc2tog – Single Crochet Two Together (reducing) – Insert hook into st, yo, pull thru two loops (2 loops on hook), insert hook into NEXT st, yo, pull thru 2 loops (3 loops on hook), yo, pull thru all loops on hook
Sc3tog - Single Crochet Three Together (reducing) - Insert hook into st, yo, pull thru two loops (2 loops on hook), insert hook into NEXT st, yo, pull thru 2 loops (3 loops on hook), insert hook into NEXT st, yo, pull thru 2 loops (4 loops on hook), yo, pull thru all loops on hook
Hdc – Half-double Crochet-yo, insert hook into next stitch, yo, pull thru 2 loops, yo, pull thru 3 loops on hook
Hdc2tog – Half-double Crochet Two Together (reducing)-yo, insert hook into next st, yo, pull thru 2 loops (3 loops on hook), yo, insert hook into NEXT st, yo, pull thru 2 loops (5 loops on hook), yo, pull thru all loops
Dc - Double Crochet - Yo, insert hook into next stitch, yo, pull thru 2 loops, yo, pull thru 2 loops, yo, pull thru 2 loops
Dc2tog - Double Crochet Two Together - Insert hook into next st, yo, pull thru 2 loops, yo, pull thru 2 loops, yo, insert hook into NEXT stitch, yo, pull thru 2 loops, yo, pull thru 2 loops, yo, pull thru all loops on hook
BlTrc - Back Loop Treble/Triple Crochet - Yo twice, Insert your hook into the back loop (instead of under both loops like normal) of the stitch-Regardless of whether you are on RS or WS, the back loop is ALWAYS the loop away from you-yo, pull thru 2 loops, yo, pull thru 2 loops, yo, pull thru 2 loops, yo pull thru last 2 loops
Yo – Yarn Over
FO – Fasten off/Cut yarn
You can adjust your sizing either with your hook or reducing/increasing stitches. There are four main sizes simply by changing your hook. Using an F Hook approx 4.75"/G Hook approx 5"/H Hook approx 6"/I Hook approx wider 6". There are closer pictures at the end of this pattern for each size. Once you get the sole done, you can see if you need to upsize your hook for a larger size. Each sole on the right has the same number of ending sts (55)

As with most booties, we will work from the bottom up. I have labeled each section to give you a better idea of exactly what we are working on :) During the pattern, I do say to FO (fasten off). Trust me, fasten off :) I'm not a fan of fastening off during a project and will carry the yarn if I can as long as I can. For a neater looking bootie, you will want to fasten off.
PLEASE BE SURE TO USE PUFF PAINT OR SOME THING ON THE BOTTOM OF THE BOOTIES IF THE CHILD IS MOBILE IN ANY WAY!!
As always, if you have any questions, please contact me at any of the following:
Email yarntivity@gmail.com
Facebook http://www.facebook.com/yarntivity
Ravelry http://ravelry.com/people/Yarntivity
Pinterest http://pinterest.com/yarntivity
Thank you for your interest in my pattern! I know it will turn out beautiful. Don't forget to post pictures of your work on Ravelry! I LOVE to see the finished product and see everyone's Yarntivity shine!!
-Casey Pilley
Ravelry download
$2.50 USD
About this pattern
5 projects
, in 24 queues
More from Yarntivity, Casey P...
See them all...
Bundles with this pattern
First published: November 2014
Page created: November 16, 2014

visits in the last 24 hours

visitors right now