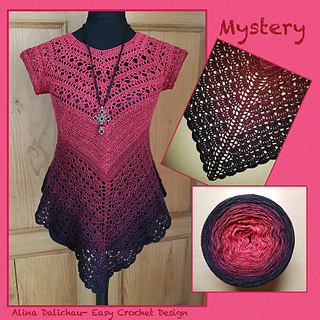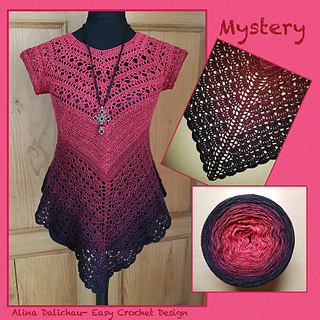 &copy alina_dalichau@yahoo.de
&copy alina_dalichau@yahoo.de
&copy alina_dalichau@yahoo.de
&copy alina_dalichau@yahoo.de
&copy alina_dalichau@yahoo.de
&copy alina_dalichau@yahoo.de
&copy alina_dalichau@yahoo.de
&copy alina_dalichau@yahoo.de
&copy alina_dalichau@yahoo.de
&copy alina_dalichau@yahoo.de
&copy alina_dalichau@yahoo.de
&copy alina_dalichau@yahoo.de
&copy alina_dalichau@yahoo.de
&copy alina_dalichau@yahoo.de
Mystery Tunika
This pattern is available
for
€3.28 EUR

buy it now
Mystery Tunika
Ich habe mit gefachtem Garn
("Liebeswirbel" und "Dark Mystery", Easy Crochet Design) gearbeitet, 4 fädig, Nadelstärke 4.
Verbrauch (circa) je nach Form die ihr häkelt, variiert das natürlich: Gr. 38- 800m, Gr. 40 (meine Variante) 900m, Gr. 42- 1000m, Gr. 44/46- 1200m, Gr. 48/ bis 52- 1400.
Es variiert je nach Weite um bis zu 200m pro Größe.
Mit der geraden Variante braucht man z.B. in Gr. 44/46 nur 1000m.
Kenntnisse und Abkürzungen:
Gute Kenntnisse des Häkelns sollten vorhanden sein.
Luftmaschen- LM, Stäbchen- Stb, Kettmaschen- KM, Feste Maschen- FM,
Halbe Stäbchen- HStb, Stb zusammen abmaschen
Diese Anleitung enthält:
25 Seiten, davon 4 Seiten elektronische Häkelschrift, 7 Seiten Testhäklerwerke mit Angaben, viele Bilder, und ausführliche schriftliche Erklärungen.
Diese Anleitung ist *NICHT* maschenweise ausgeschrieben.
Meine Anleitungen können in allen Größen nachgearbeitet werden, sind Schritt für Schritt erklärt, und für kreative Selbermacher geeignet, die gerne eigene Ideen einbringen, um ihr Werk einzigartig zu gestalten. Die Größe bestimmt ihr selber, indem ihr eure Arbeit in verschiedenen Schritten für euch anpasst.
---
Es ist nicht erlaubt, diese Anleitung weiter zu verkaufen, gratis weiter zu geben, oder für gewerbliche Zwecke zu nutzen. Design & Anleitung:
© Alina Dalichau - Easy Crochet Design, alina_dalichau@yahoo.de, 2016, Alle Rechte vorbehalten.
Artikel die mit meiner Anleitung entstanden sind, dürfen aber in beliebiger Stückzahl, unter Bezugnahme auf den Designer, verkauft werden.
---
Mystery Tunika Raglan, worked top down
All Sizes! Many different versions for creative people.
My patterns can be worked in all sizes, they are explained step by step, suitable for creative heads who want to bring forward own ideas to make their work unique. You can determine the size of your tunic by adjusting your work in progress step by step.
You should be an experienced crocheter.
This pattern includes: 24 pages, 4 of which with charts, 7 pages finished tunics of test chrocheters with discription, many pictures and detailed written explanations. This pattern is NOT written stitchwise.
Required materials: I worked using single stranded yarn ("Liebeswirbel" and "Dark Mystery", Easy Crochet Design), four-strand, crochet hook F/5 (US), 4mm, 8 (UK), stitch markers Approximate usage of yarn: Size 8 (US) approx. 800m Size 10 (US) approx. 900m Size 12 (US) approx. 1,000m Sizes 14/16 (US) approx 1,200m Sizes 18 – 22 (US) approx. 1,400m Differences in usage up to 200m per size are possible according to width.
Abbreviations: Chain stitch – ch, Double crochet – dc, Slip stitch – slst, Single crochet – sc, Half double crochet – hdc, Dc crochet together
The sale, free passing on and commercial use of this pattern is prohibited. Design and pattern: ©Alina Dalichau Easy Crochet Design, alina_dalichau@yahoo.de, 2016, all rights reserved Goods made by using my pattern may be sold in any quantity whatsoever with reference to the designer. Translated by Christina Mitterlehner
---
Mystery
Modello all'uncinetto Raglan top-down per tutte le taglie
Con molte varianti per le anime più creative.
I miei modelli possono essere lavorati in tutte le taglie, sono spiegati passo passo e perfetti per le amanti del fai da te più creative che inseriscono nel lavoro il loro tocco personale per renderlo unico. La taglia si determina da sé adeguando il proprio lavoro nelle singole fasi di lavorazione.
È consigliata una buona conoscenza delle tecniche dell'uncinetto.
Materiale necessario:
Ho utilizzato filato a 4 capi ("Liebeswirbel" e "Dark Mystery" di Easy Crochet Design)
uncinetto n. 4
Il metraggio necessario varia a seconda del tipo di modello che deciderete di realizzare: Taglia 42 -800 m, Taglia 44 (mia variante) 900 m, Taglia 46 - 1000 m, Taglia 48/50- 1200m, Taglia da 52 a 56 1400.
A seconda della larghezza desiderata il metraggio necessario può variare fino a 200 grammi per taglia.
Realizzando la versione diritta servono, ad esempio: per la taglia 48/50 solo 1000 m.
Conoscenze richieste e abbreviazioni:
È consigliata una buona conoscenza delle tecniche dell'uncinetto.
Catenella - cat, maglia alta - ma, maglia bassissima - mbs, maglia bassa - mb
mezza maglia alta - mma, diminuzione di maglie alte
Il modello contiene 24 pagine di spiegazioni, numerose fotografie e i grafici, non è tuttavia presente una descrizione scritta completa punto per punto.
Il presente modello non può essere venduto o messo a disposizione di terzi a titolo gratuito e non può essere utilizzato per scopi commerciali. Modello e spiegazioni:
© Alina Dalichau - Easy Crochet Design, alina_dalichau@yahoo.de, 2016, tutti i diritti riservati
I prodotti realizzati sulla base del modello, indipendentemente dal loro numero, possono essere venduti purché sia indicato il nome dell'autrice del modello.
---
Mystery Tunika
Raglan, travaillé top down
Toutes tailles, Des versions différentes pour les créatifs
Le modèle peut être fabriqué dans toutes les tailles, il est expliqué étape par étape et propice à votre propre créativité pour rendre votre travail unique. Vous pourrez régler la taille de votre tunique en l'ajustant au cours des différentes étapes.
Ce modèle est de niveau expérimenté.
Ce document comprend: 24 pages, dont 4 avec les diagrammes, 7 pages de différentes tuniques de mes testeurs et accompagnées de description, de nombreuses photos et des explications écrites détaillées. Mais n'est PAS un pas à pas des points utilisés.
Matériaux requis:
J'ai utilisé un fil single stranded ("Liebeswirbel" et "Dark Mystery", Easy Crochet Design), en 4brins, crochet F/5 (US), 4mm, 8 (UK), et des marqueurs de points. Quantité approx. de fil: Taille 8 (US) env. 800m ; Taille 10 (US) env. 900m ; Taille 12 (US) env. 1,000m ; Taille 14/16 (US) env. 1,200m ; Taille 18 – 22 (US) env. 1,400m. Une difference de métrage pouvant aller jusqu'à 200m par taille est possible suivant l'ampleur de votre tunique.
Abréviations:
Chainette – ch, Maille en l'air – ml, Bride – b, Maille coulée – mc, Maille serrée – ms, Demi bride – db, brides fermées ensembles.
La vente, le partage gratuit et l'utilisation de ce tuto à des fins commerciales sont interdits. Création et conception © Alina Dalichau Easy Crochet Design, alina_dalichau@yahoo.de , 2016, tous droits réservés. Les produits fabriqués en utilisant mes explications peuvent être vendus, citez- moi comme créatrice de ce modèle.
Traduction Rim N.D MABROUK
About this pattern

25 projects
, in 96 queues
More from Alina Dalichau
See them all...
Page created: May 1, 2017

visits in the last 24 hours

visitors right now