&copy 2015 Amanda Woeger
&copy HeiMo
&copy smallbirdworkshop
&copy 2015 Amanda Woeger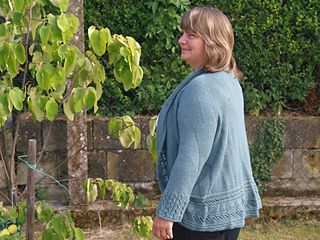 &copy rana1
&copy Quirl
&copy RainbowPurls
&copy Catherina
&copy BTknits
&copy MiniRobe - front pinned
&copy RainbowPurls
&copy RainbowPurls
&copy Motzi15
&copy Sima
&copy brio
&copy 2015 Amanda Woeger
&copy 2015 Amanda Woeger
&copy 2015 Amanda Woeger
&copy 2015 Amanda Woeger
&copy 2015 Amanda Woeger
&copy 2015 Amanda Woeger
&copy 2015 Amanda Woeger
&copy 2015 Amanda Woeger
&copy 2015 Amanda Woeger
&copy 2015 Amanda Woeger
&copy 2015 Amanda Woeger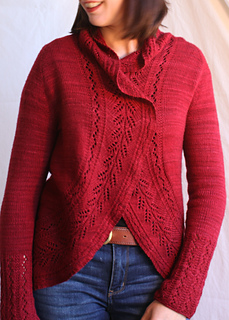 &copy 2015 Amanda Woeger
&copy 2015 Amanda Woeger
&copy 2015 Amanda Woeger
&copy 2015 Amanda Woeger
&copy 2015 Amanda Woeger
Nascent
This pattern is available
for
$7.00 USD

buy it now
Nascent, meaning of promise and potential, is an elegant wrap-cardigan that is lightweight and comfortable. Nascent, worn for a special occasion or simply to the office, gives the promise and potential for much praise from knitters and non-knitters alike!
This piece is knit from the top-down in one-piece. Nascent is cast on at the center back collar position. First the lace collar is worked back and forth, to a specific back neck width. Thereafter, stitches are picked up along the back neck to begin knitting the yoke. The lace edging and raglan yoke are actually worked simultaneously. After the required body length is achieved, the lace is worked back and forth along the bottom edge until it is joined at the center. This process forms an oval lace "wrap" that encompasses the cardigan. The sleeves are knitted in rounds from the top, and finished off with a long, lacy cuff.
Gauge
24 stitches x 32 rows = 4" (10 cm) in stockinette stitch, on US Size 4 (3.5 mm) needles; measured on a washed and blocked swatch.
Difficulty
Advanced (short rows & lace charts)
Needles
US Size 4 (3.5 mm) 60" circular needle (or size needed to achieve gauge)
Stitch Markers
A: Lace/yoke dividing markers; B: Raglan seam markers;
C: Center back hem marker; D: Hem decrease marker; E: Sleeve beginning of round
Yarn
Yardage varies depending on the yarn you decide to use. Estimated requirements using finito, by Malabrigo Yarn 200 yards / 183 m and 50 g per skein:
1300 (1350, 1400, 1450, 1500, 1600, 1650, 1700, 1750, 1800) yards /
1190 (1235, 1280, 1325, 1375, 1465, 1510, 1555, 1600, 1645) meters
…
Nascent, d.h. werdend oder aufkeimend (Englisch: of promise and potential), ist eine sehr elegante Strickjacke, die aber auch leicht und bequem ist. Sie können Nascent zu einem besonderen Anlass oder auch einfach ins Büro tragen. In jedem Fall werden Sie sowohl von StrickerInnen also auch Nicht-StrickerInnen viel Lob bekommen!
Diese Strickjacke wird von oben nach unten an einem Stück gestrickt. Der Anschlag liegt am Rücken in der Mitte des Spitzenkragens. Der Kragen wird erst in Hin- und Rückreihen gestrickt, dann werden die Maschen für die Passe entlang des Halsausschnitts am Rücken aufgenommen. Das Spitzenmuster und die Passe werden zugleich nach unten gestrickt. Danach muss die Spitze weiter in Hin- und Rückreihen unten am Rücken herum gestrickt werden. Dieser Vorgang formt einen schalartigen Spitzenrand, der die gesamte Jacke umkreist. Die Ärmel werden auch in Runden nach unten gestrickt und mit einem langen Spitzenbündchen gefertigt.
Maschenprobe
24 Maschen x 32 Reihen = 10 cm (4 Inches) mit Nadelstärke 3,5 mm (US 4) glatt rechts gestrickt. Die Probe vor dem Messen waschen und spannen.
Schwierigkeitsgrad
Fortgeschritten (verkürzte Reihen)
Nadelstärke
3,5 mm (US 4) Rundstricknadeln oder eine Nadelstärke für die notwendige Maschenprobe
Maschenmarkierer
MM-A: Maschenmarkierer für die Trennung zwischen Spitze
und Passe; MM-B: Maschenmarkierer der Raglanzunahmen; MM-C: Maschenmarkierer mittig am Saum; MM-D: Maschenmarkierer für die Abnahmen am Saum; MM-E: Maschenmarkierer für den Ärmel-Rundenanfang
Garn
Die Lauflänge hängt von gewählten Garn ab. Der geschätzte Bedarf stimmt nur beim Einsetzten von Malabrigo Yarn finito, 183 m / 50 g je Knäuel:
1190 (1235, 1280, 1325, 1375, 1465, 1510, 1555, 1600, 1645) Meter /
1300 (1350, 1400, 1450, 1500, 1600, 1650, 1700, 1750, 1800) Yards
Page created: March 25, 2015

visits in the last 24 hours

visitors right now