Welcome! You are browsing as a guest
Would you like to see 263 projects made from this pattern and much more?

create a free account
What am I missing?
&copy Jenjoyce Design
&copy wolbol28
&copy Jenjoyce Design
&copy Jenjoyce Design
&copy Jenjoyce Design
&copy Jenjoyce Design
&copy Jenjoyce Design
&copy Jenjoyce Design
&copy Jenjoyce Design
&copy Jenjoyce Design
&copy Jenjoyce Design
&copy Strickizzy
&copy Lemik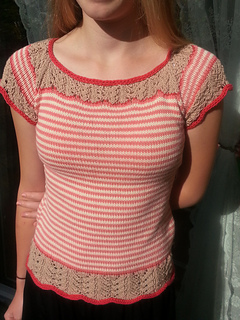 &copy michelinmaedchen
&copy romychen
&copy Pucky
&copy Mamaloftin
&copy twosam
&copy nataliec1
by
LucciolaS

Flickr
&copy duelmint
&copy Osusanna
&copy soknitsome
&copy Kaffeepause
&copy Metika
&copy calliclaire
&copy byamazaki
&copy westshoreleanne
&copy CraftyTaoCat
&copy Sille1
&copy Jenjoyce Design
Penny Candy Tee
This pattern is available
for
$6.00 USD

buy it now
or

visit pattern website
An unexpected pairing of stripes and lace in a lightweight & loosely knit Spring-thru-Autumn tee. Four colors in play (or modify to three, or just two). A pretty neckline that dips just enough in both front and back. Lace sleeves that are short and so flirtatious. Moderately shaped at waist with alternating single decreases at sides, creating a very soft & subtle shaping. Same circumference for hips as bust. Options fit shorter/longer through in shaping, or no shaping, and neckline higher. Raglan shoulders, i-cord edged, a rib-like lacework pattern that scallops the bottom edge, so well the nearest stripes conform. Words which describe this delicious tee are "classy, cute, smart & feminine!"
INTERMEDIATE SKILL LEVEL: This tee is not appropriate for a beginner project as it has complicated sections which require keeping pattern correct through shaping and color changes.
Most recent update: Dec 29, 2015 (If you are working from a pdf which is dated earlier, you have an out-dated pattern.)
For 2 & 3 color variation , it may be helpful to see notes on this tee project.
---
Matching sock accessory Penny Candy Socks are a great way to use up left-over sock yarn from the tee !
* * *
Fabric: As this garment is intended to be knit with a sheer quality to it, finer the yarn with larger needles is going to give you the lightweight fabric for warm weather, however, if you wish a sturdier 'cooler weather' tee, aim for gauge using smaller needles and sport or DK weight yarn.
I recommend wool and superwash wool sock yarn, because of the excellent elastic properties of wool (and there is just so much of it available ! ) Silk or cotton will not be as elastic, so not recommended unless you are experienced in making necessary modifications for best fit.
Question: Can I use cotton yarn for this design?
Answer: If you take a look at the finished projects of this tee, you'll see some are knit with cotton. I think that being a form-fitting design, allows the neck to be low (for warm weather) and that the cotton yarn does not 'cling' as well as wool. So, to make sure the neck does not fall off the shoulders, you will likely have to add either short rows at the neckline, more rounds before the short-row section, or more lace repeats at the neck edge (which I think would be lovely, and remember, for each lace repeat you knit at the neck, you're also decreasing 16 stitches, naturally closing it in a little more). All these options are included in pattern. You might also consider making a size smaller if you're using cotton yarn.
Question: Can I use sport-weight? Answer: Yes, there are some beautiful FO's of this project with sport-weight. Best to experiment with needle size to get listed gauge, then you're probably going to have a tee which is just a little thicker in fabric, a lot warmer and not as 'airy'.
Gauge: 6 stitches and 8 rows = 1 inch in stockinette.
Needles: US 6 – 4 mm, or size to obtain gauge. You will also need US 4 - 3.5mm for lacework and i-cord bind-off, or two sizes smaller than size to obtain gauge.
It is essential to make a proper gauge swatch. If you knit at all loosely, you will need to go down a needle size. Be sure to make a proper circular-knit (in-the-round) & wet-blocked gauge swatch so that you can have an accurate fit, and change needle sizes and garment size if necessary. Please see my tutorial on 3-in-1 Swatch to get a thorough & more exact stitch-gauge swatch.
Sizes: 28 (30, 32, 34) 36 (38, 40, 42)
Prototype in the pattern photo is a size 32 .
Fit: This tee is light and fluffy in fabric, resilient and form-fitting. Two shaping options - moderately shaped at waist, or without shaping.
If knit with 1" to 2" of negative ease, or to same measurement of torso (measured around upper bust at underarm) you will have a nicely form-fitted tee in shoulders. If you wish a looser fit, choose size same as bust measurement, however as neckline can then gape and slide off of shoulders if knit too large, consider trying on as you knit the neck area, and follow options to knit an extra round or two in or before short-rows, or 1 or 2 lace repeats at neck or decrease more at bind-off if needed.
Actual garment measurement at bust & hip: 28 (30, 32, 34) 36 (38, 40, 42) inches
7176,81,86 91.596.5,101.5,107cmapprox.
Skills: Knitting in-the-round. I-cord cast-on. Decreasing i-cord bind-off. Raglan shaping . Lacework edging. Keeping pattern correct with stripes and lacework through shaping.
Yarn: Fingering weight wool sock yarn, in four colors: Main color 1= MC1 , main color 2 = MC2 , contrast color 1 = CC1 , and contrast color 2 = CC2.
Yardage: Prototyped with Knit Picks Stroll sock yarn which comes in 230 y 210 m 50 g balls. Yardage is approximate, not reflecting fitting options, or length variations.
MC1: 1(1, 1-2, 2) 2(2, 2, 2-3)balls.
MC2: 1(1, 1-2, 2) 2(2, 2, 2-3)balls.
CC1: 1(1, 1-2, 2) 2(2, 2, 2-3) balls.
CC2: 1 ball To be safe, though just a little of 1 ball
will be used. Perfect little accent that maybe you already have in your sock yarn stash!
Where size indicates to get 1-2 (2-3) balls depending on shaping, length, and with of lacework that you desire, although you may only use 1(2) balls each, be prepared, make sure you have access to additional balls in same color, or just buy an extra ball.
Note about Madelinetosh Tosh Sock as a substitute: My prototype was knit with yardage which in comparison is (2x50g balls) = 100g = 462 yards.
Tosh Sock is 100g = 395 yards, and the difference is nearly 70 yards per 100g. It is nearly sport-weight, and I would like to point out for the above 'iffy' areas, to err on the safer side of having more than enough yardage, and definitely working a swatch for gauge.
---
I invite Any & All who are knitting Penny-Candy Tee to bring questions, comments, great tutorial links, and otherwise general PennyCandyTee-related chattiness to my Jenjoyce Group which exists just for knitters of Jenjoyce Design. Look for the thread for Penny Candy Tee. The kettle is on… see you there ! :)