&copy Interweave
&copy Kristen Hein Strohm
&copy DanaLeaym
&copy girlandtree
&copy lauraknot
&copy einahpets
&copy Smitiha
&copy kecall2011
&copy indigolarkspur
&copy Interweave
&copy Kristen Hein Strohm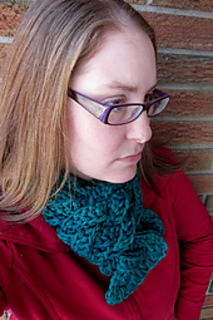 &copy knitpurlmama
&copy indigolarkspur
&copy oloflilja
&copy nilliesmom
&copy AlliLuvsCrochet
&copy oloflilja
&copy Kristen Hein Strohm
&copy Kristen Hein Strohm
&copy Barn
by
dkowen

Flickr
&copy Kristen Hein Strohm
&copy Kristen Hein Strohm
&copy girlandtree
Rapunzel Scarf


This pattern is available from interweave.com
for
$5.50
.
This luscious scarf was conceived as a tool to teach the chainless foundation double crochet stitch (fdc). The scarf is created by braiding 5 strands of fdc, providing plenty of practice to master the stitch, and features an attractive spike stitch edging. This beautiful braided scarf also pays homage to braided rivers like the Platte, whose plaited channels support abundant fish and wildlife. To learn more about braided rivers and how you can help conserve them, please visit www.AmericanRivers.org. 10% of Kristen's proceeds from this pattern will also be donated to AmericanRivers.org.
Using a similar multi-strand braiding technique and detailed, instructional stitch illustrations hand-drawn by artist Miranda Currie, Kristen has also written a pattern for a 7-strand chainless foundation single crochet scarf (Platte River Plaits), available as a Ravelry download. That pattern also includes instructions for how to create a chainless foundation row composed of any stitch pattern (waves, chevrons, griddle stitch, double trebles, etc.), so you'll never have to make a chain row again!
Chainless foundation stitches are continuing to increase in popularity, because when these stitches begin a project instead of a traditional chain row, the edge is often more flexible, elegant, true to gauge, and without the confusing twist that chain rows may create. Once you've mastered the fdc stitch with this scarf, try applying it to your next crochet project that features a dc fabric. Omit the chain row and first dc row of the pattern, and replace them with one row of fdc. Then continue the pattern as written, starting with the second dc row. You'll love the results!
If you're short on yarn or time, you can also reduce the 5-strand braid to 4 strands and still have a unique and beautiful scarf. The pink and sky blue scarves shown here were created with 5 fdc strands each and measure 5 inches wide; the turquoise scarf was crocheted with 4 fdc strands and measures 4 inches wide.
Yarn options:
This scarf works beautifully with bulky-weight yarn held singly or with worsted-weight yarn held double (or a DK-weight held alongside an aran-weight). The second option also gives an opportunity for including two colors and/or textures in your scarf, for a marled effect similar to the turquoise scarf shown here, which was crocheted with Manos del Uruguay Silk Blend and Berroco Peruvia held together. The yarn recommendations below are all for bulky-weight yarns held singly; if instead you opt for a two-toned skinny yarn approach, the possibilities are nearly endless! :) Below I've listed organic, fair trade, & low carbon footprint options first, and among the non-organic options, I've listed the softest alpacas & most beautiful hand-dyed wools first. Any of the options below, though, would make a lovely scarf!
Spud & Chloe Outer
Rowan Purelife British Sheep Breeds Chunky
Cascade Ecological Wool
Cascade Eco +
Viking of Norway Eco-Alpaca
Dashing Dachs Stallion Organic Merino
Mosaic Moon Organic Merino Bulky
Schachenmayr Nomotta Ecologico Camel
Schachenmayr Nomotta Ecologico
WOOLganic Head, Hands & Heart
O-Wool Legacy Bulky
O-Wool Balance Bulky
Rico Design Organic Pure Chunky
Lana Grossa Linea Pura Fauna
Abuelita Yarns Misterious Blend Bulky
Family Roots Gaia Organic Merino Bulky
Nurturing Threads Aria Organic Merino Bulky
Selah Honey Organic Merino Bulky
Stylecraft Nature's Way Chunky
Frog Tree Alpaca Chunky
Mirasol Sulka
Mirasol Ushya
Quince & Co. Puffin
Alchemy Lux
Madelinetosh Tosh Bulky
Malabrigo Chunky
Malabrigo Rasta
Blue Moon Fiber Arts Icelandic
Lorna's Laces Shepherd Bulky
Dream in Color Groovy
Araucania Copihue
Araucania Limari
Plymouth Baby Alpaca Grande
Misti Alpaca Chunky
Catalina Baby Alpaca Chunky
Blue Sky Alpacas Bulky
Cascade Baby Alpaca Chunky
Araucania Nature Wool Chunky
Three Irish Girls Galenas Chunky
Three Irish Girls Springvale Bulky
Classic Elite Ariosa
Debbie Bliss Como
Berroco Cuzco
Drops Andes
Nashua Creative Focus Chunky
Elizabeth Lavold Chunky AL
Rowan Cocoon
Berroco Peruvia Quick
Drops Eskimo
Lang Breeze
Bouton d'Or Laika
Crystal Palace Chunky Mochi
Louet Riverstone Chunky
Tahki Torino Bulky
Tahki Taos
Classic Elite Paintbox
Crystal Palace Iceland
Schulana Grande
Lana Grossa Colore
Valley Yarns Northampton Bulky
Valley Yarns Berkshire Bulky
Wool Pak New Zealand Bulky
Lamb's Pride Bulky
Lion Brand Alpine Wool
Debbie Bliss Cashmerino Chunky
Page created: October 30, 2011

visits in the last 24 hours

visitors right now