patterns

>

sosu

>

Shawl Shrug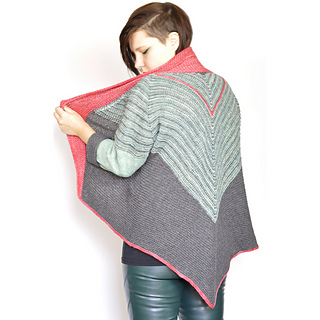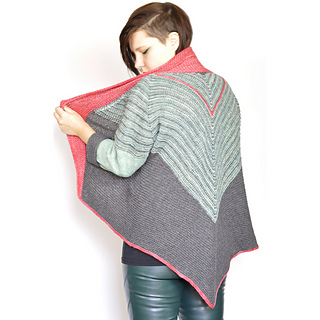 &copy sosu
&copy sosu
&copy sosu
&copy sosu
&copy sosu
&copy sosu
&copy sosu
&copy sosu
&copy sosu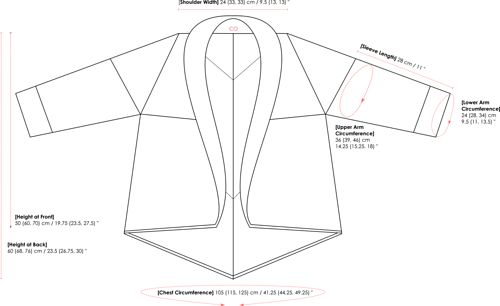 &copy sosu
Shawl Shrug
This pattern is available
for
€6.50 EUR

buy it now
Get the complete Shawl Construction-Set (Shawl Shrug, Shawl Shirt & Hoodie Shawl Cardigan) for €16! Past purchases count, so you don't have to get them all at once to get the reduced price! Or Buy Now.
There is so much potential in the construction of a top-down triangular shawl – it doesn't always have to end up being a shawl!
In this pattern what starts just like a shawl ends up being a biased raglan jacket.
The shawl section is knit in what I'd call elongated garter stitch (a sequence of knit and purl rows with colors changing every row) that blends the main colors together beautifully . The short-row collar, i-cord border and a stripe across the back highlight the asymmetrical shape and add a pop of color.
Simple garter stitch short-rows add length to the jacket, the stockinette sleeves are finished with a garter stitch cuff.
The garment is designed to fit loosely - and is fun to knit and to wear!
Sizes: S (M, L) or 34/36 (38/40, 42/44)
Finished Measurements:
Shoulder Width: 24 (33, 33) cm / 9.5 (13, 13)", Chest Circumference: 105 (115, 125) cm / 41.25 (44.25, 49.25)", Height at Front: 50 (60, 70) cm / 19.75 (23.5, 27.5)", Height at Back: 60 (68, 76) cm / 23.5 (26.5, 30)", Upper Arm Circumference: 36 (39, 46) cm / 14.25 (15.25, 18)", Sleeve Length (from Underarm): 28 cm / 11"
Yarn: 3 colors DK weight yarn
Yardage:
Color A (stripes & body): 382 (546, 819) m / 418 (597, 896) yards
Color B (stripes & sleeves): 222 (296, 488) m / 243 (324, 534) yards
Color C (collar): 200 (210, 252) m / 219 (230, 276) yards
Total: 804 (1052, 1559) m / 880 (1151, 1706) yards
Gauge:
18 sts / 34 rows = 10cm / 4" in garter stitch on US 7 / 4.5 mm
Needle Sizes: US 7/4.5 mm circular needles (and US 7/4.5 mm & US 6/4.0mm circulars or DPNs for sleeves)
Notions: tapestry needle, 6 stitch markers, stitch holders/waste yarn/spare cable
Shown in: M or 38/40 on 98 cm chest circumference
Lotus Yarns Tibetan Cloud Worsted Storm Cloud (A), Jill Draper Makes Stuff Mohonk Spruss (B) and Madelinetosh Tosh DK Espandrilles (C)
---
Alle drei Strickmuster mit der Dreieckstuch-Konstruktion kosten im Set nur €16! Frühere Käufe zählen (d.h. es müssen nicht alle drei auf einmal gekauft werden, um den reduzierten Preis zu erhalten). Oder jetzt komplettes Set kaufen.
In der Konstruktion eines Dreieckstuchs stecken so viele Möglichkeiten – da muss es nicht immer als Dreieckstuch enden! In diesem Strickmuster wird daraus eine Raglan-Weste.
Der dreieckige Abschnitt ist gestreift und in einer Sequenz von glatten und verkehrten Reihen gestrickt – ich nenne es verlängertes kraus rechts – wodurch die zwei Farben die beiden Farben wunderbar miteinander verblendet werden. Der Kragen, i-cord-Rand und ein Streifen am Rücken in Kontrastfarbe betonen die Konstruktion und sind ein zusätzlicher Farbtupfer.
Einfache verkürzte Reihen in kraus rechts geben der Weste Länge. Die Ärmel in glatt recht werden mit einem kraus rechten Bündchen abgeschlossen. Die Weste soll locker sitzen und soll Spaß machen – beim Stricken und Tragen!
Größen: S (M, L) oder 34/36 (38/40, 42/44)
Maße:
Schulterbreite: 24 (33, 33) cm / 9.5 (13, 13)", Brustumfang: 105 (115, 125) cm / 41.25 (44.25, 49.25)", Höhe vorne: 50 (60, 70) cm / 19.75 (23.5, 27.5)", Höhe hinten: 60 (68, 76) cm / 23.5 (26.5, 30)", Oberarmumfang: 36 (39, 46) cm / 14.25 (15.25, 18)", Ärmellänge: 28 cm / 11"
Garn: 3 Farben in Garnstärke DK
Farbe A (Streifen & Hauptteil): 382 (546, 819) m / 418 (597, 896) yards
Farbe B (Streifen & Ärmel): 222 (296, 488) m / 243 (324, 534) yards
Farbe C (Kragen & Kontrast): 200 (210, 252) m / 219 (230, 276) yards
Gesamt: 804 (1052, 1559) m / 880 (1151, 1706) yards
Maschenprobe:
18 Maschen / 34 Reihen = 10cm / 4" in kraus rechts mit US 7 / 4.5 mm Nadeln
Nadelstärke: US 7 / 4.5 mm Rundstricknadel (und US 7 / 4.5 mm & US 6 / 4.0 mm Rundstricknadeln oder Nadelspiel für Ärmel)
Sonstiges: Stopfnadel, 6 Maschenmarkierer, Maschenhalter/Wollrest (oder eine zusätzliche 4.5 mm Rundstricknadel)
Abgebildet in: Größe M
Lotus Yarns Tibetan Cloud Worsted Storm Cloud (A), Jill Draper Makes Stuff Mohonk Spruss (B) und Madelinetosh Tosh DK Espandrilles (C)
Page created: June 6, 2015

visits in the last 24 hours

visitors right now