Pattern
&copy Steffi Dobbertin (Hochfellner)
&copy Steffi Dobbertin (Hochfellner)
&copy Steffi Dobbertin (Hochfellner)
&copy Steffi Dobbertin (Hochfellner)
&copy Steffi Dobbertin (Hochfellner)
&copy Steffi Dobbertin (Hochfellner)
&copy Steffi Dobbertin (Hochfellner)
&copy Steffi Dobbertin (Hochfellner)
&copy Steffi Dobbertin (Hochfellner)
&copy Steffi Dobbertin (Hochfellner)
&copy Steffi Dobbertin (Hochfellner)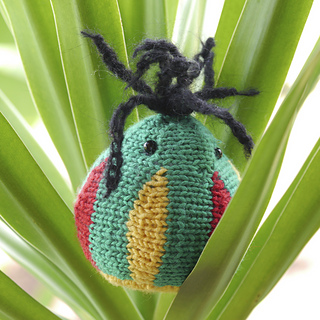 &copy Steffi Dobbertin (Hochfellner)
&copy Steffi Dobbertin (Hochfellner)
&copy Steffi Dobbertin (Hochfellner)
&copy Steffi Dobbertin (Hochfellner)
&copy Steffi Dobbertin (Hochfellner)
SUNSHINE BOB handpuppet
This pattern is available from cats-and-hats.de
for
€3.90
.
Pattern is available in English and Deutsch
Meet Sunshine Bob and his friend the Reggae Bobbel! These two are the cheeriest, happiest knitted friends imaginable. Especially Bob is really chilled and copes with all situations life has in store for him with a big big smile. And a song, of course. It will not surprise you that Bob & Bobbel are planning to set up a cover band of … who? You guess!
You will get a step-by-step instruction for Bob, and I throw in the pattern for Bobbel FOR FREE. Also included is a detailed appendix for the techniques you need. Bob is easily managable for beginners; the Reggae Bobbel is technically a bit more demanding and will teach you the fantastic (and easy) technique of short rows German style.
Bob is knitted in the round, the Bobbel is knitted flat!
The pattern will lead you step-by-step through the making process, including loads of detail photos. Additionally, you'll find instructions for the more elaborate techniques used. His size fits a ladies hand.
If you buy the pattern via ravelry, you will get both the English and the German Version. The name of the English version is "SUNSHINE BOB english knitting pattern"
Have fun knitting!
Yours Steffi
………………………………………………………………………
Egal ob Hitze, Regen oder Schnee: Sunshine Bob hat ein sonniges Gemüt und begegnet allen Widrigkeiten des Lebens mit einem breiten Lachen! Immer zur Seite steht ihm dabei der fröhlich herumhüpfende Reggae-Bobbel. Bob & Bobbel chillen am liebsten unter Palmen, aber ein Sofa ist auch prima. Hauptsache, sie können die Songs ihres Lieblingsmusikers singen. Wer dieser Musiker wohl ist? Dreimal dürfen Sie raten!
Bob ist übrigens eine Handpuppe; wer Lust hat, findet aber einfache Methoden, ihn als volle Puppe zu arbeiten. GRATIS zur Bob-Anleitung gibt's auch die Anleitung für den Bobbel. Bob gelingt abenteuerlustigen Anfänger/innen, beim Bobbel lernt man die großartige Technik der verkürzten Reihen kennen.
Das müssen Sie können: - normaler Maschenanschlag - rechte und linke Maschen - Stricken in Runden - abketten - Luftmaschen häkeln
Das wird im Technikanhang erklärt: - Maschen ab- und zunehmen - alle nötigen Näh- und Sticktechniken - provisorischer Anschlag (nur für den Bobbel nötig) - verkürzte Reihen (nur für den Bobbel nötig) - Drei-Nadel-Technik (nur für den Bobbel nötig)
Bob wird in Runden, der Bobbel in Reihen gestrickt!
Und jetzt wünsche ich viel Spaß beim Stricken! Ihre Steffi
Sie haben die Möglichkeit, die deutsche Anleitung direkt über meine Webseite www.cats-and-hats.de zu bestellen.
Wenn Sie die Anleitung über ravelry kaufen, erhalten Sie sowohl die deutsche als auch die englische Version. Der Name der deutschen Version lautet "SUNSHINE BOB deutsche Strickanleitung"
First published: July 2016
Page created: July 16, 2016

visits in the last 24 hours

visitors right now