Welcome! You are browsing as a guest
Would you like to see 8 projects made from this pattern and much more?

create a free account
What am I missing?
&copy Rowan Yarns, 2014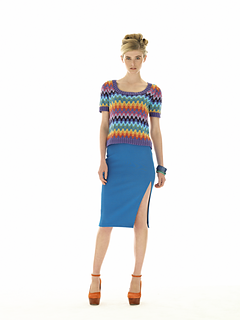 &copy Rowan Yarns, 2014
Surf
From the Knit Rowan website:
Knit this womens patterned, stripe t shirt from Rowan Knitting & Crochet Magazine 55, a design by Martin Storey using the beautiful yarn Cotton Glace (combed cotton). With set in short sleeves and scoop neck, this knitting pattern is for the intermediate knitter.
Finished width dimensions:
43.5: 48.5: 55.5: 61: 68.5 cm
17: 19: 22: 24: 27 inches
Yarn Information:
A - Ultramarine 851
4, 5, 6, 6, 7 skeins
500, 625, 750, 750, 875 yards
B - Baked Red 837
1, 1, 1, 2, 2 skeins
125, 125, 125, 250, 250 yards
C - Persimmon 832
1, 1, 1, 1, 2 skeins
125, 125, 125, 125, 250 yards
D - Ochre 833
1, 1, 2, 2, 2 skeins
125, 125, 250, 250, 250 yards
E - Winsor 849
1, 1, 2, 2, 2 skeins
125, 125, 250, 250, 250 yards
F - Green Slate 844
1, 1, 1, 2, 2 skeins
125, 125, 125, 250, 250 yards
G - Aqua 858
1, 1, 1, 2, 2 skeins
125, 125, 125, 250, 250 yards
H - Cobalt 850
1, 1, 1, 1, 1 skein
125, 125, 125, 125, 125 yards
I - Blackcurrant 862
1, 1, 1, 1, 1 skein
125, 125, 125, 125, 125 yards
J - Lavender 860
1, 1, 1, 1, 1 skein
125, 125, 125, 125, 125 yards
K - Rose 861
1, 1, 1, 1, 1 skein
125, 125, 125, 125, 125 yards