Classical Elements
by Aoibhe Ni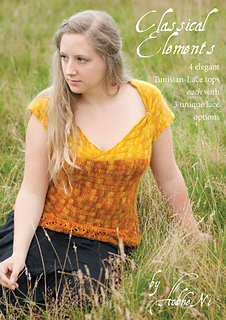 Classical Elements
by Aoibhe Ni
eBook
published in August 2013
Notes
Notes
Welcome to Classical Elements!
This ebook is inspired by the 4 Classical Elements;
Earth, Fire, Wind and Water.
Each top is being designed with its respective element very much in mind, to produce an elegant, but wearable piece.
In addition, I thought it would be fun to give a selection of lace edgings for each top, giving you a large range of combinations and styles overall.
Last year's ebook, Legendary Shawls, was so much fun to work on, I have decided to write this ebook in a similar fashion.
So, over the next year or so, I will be writing this book. Each pattern can be bought separately, but the ebook represents far and away the better value.
Each pattern will come in both UK and US stitch languages, will contain links to many instructive videos, clear charts, and a really awesome info page introducing you to the lovely yarns I have been lucky enough to work with.
When each new pattern becomes available, I will message you on Ravelry with a download link, to let you know you have a new surprise waiting for you. :)
Important Note: As all the patterns are available to buy both singley, and as part of the ebook, I cannot authorise refunds on single patterns if the ebook is also purchased. Please be sure you know what you're buying before you do.
eBook published in August 2013