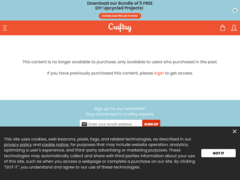 Craftsy Class: Custom Yoke Sweater
by Amy Detjen
craftsy.com
Website
published in 2012
notes
Join Amy Detjen from Vogue Knitting and learn dozens of useful knitting tips as you create a custom-fit sweater with stranded colorwork.
This class is perfect for intermediate knitters who are ready to tackle garment knitting and colorwork in the round. Amy explains Elizabeth Zimmermann's "key number" system to adjust fit, and adds techniques made famous at Meg Swansen's Knitting Camp. As you knit the included sweater pattern, you'll learn how to trap stranded colorwork, customize your pattern with easy knitting math, select the right colors and patterns for your yoke, and add details like phony seams and knitted hems. In the process, you'll learn new twists on basic knitting techniques from cast-on to blocking. Amy's irreverent sense of humor makes even the picky parts fun!
The included Sipsey's Folly pullover sweater knitting pattern is sized from women's Small to 4X (bust 37" to 61" or 94 to 155 cm). An alternative Gardener's Folly yoke pattern is also included.