The Travel Trio
by Clare Devine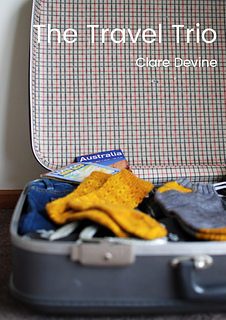 eBook
published in June 2016
Ravelry download
$10.00 USD
Notes
Notes
The Travel Trio
I love a good adventure and for me the best knitting companion to a great journey, whether near or far, is a pair of socks.
A good pair of travel socks needs to be easy to pick up and put down without having to do too much thinking. I am a big fan of the plain old vanilla sock but sometimes plain vanilla just doesn't cut it. I often want just a little bit of detail – some texture, a smattering of eyelets or some interesting colour combinations.
At the end of last year I knew I had many travel hours ahead of me and to commemorate this momentous journey – and make sure I had some great travel knitting on the needles – I decided to design some socks to knit along the way.
The Travel Trio was born ….
#traveltriokal
To celebrate the launch of this mini collection I am hosting a relaxed knit-along in my Ravelry group.
The KAL will run from 17th June to 31st August.
More details can be found in the Knit Share Love Ravelry group – I'd love to meet you, come over for a chat and some relaxed knitting.
eBook published in June 2016
ravelry.com