Kiyomi Burgin
Moon And Turtle: Knitting Patterns With Variations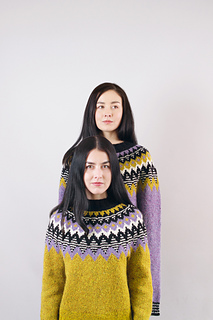 Scroll down / click here to see the designs from Moon And Turtle!
For pattern support, please send me a Ravelry message, or write to the email address found at the bottom of my patterns. I try to respond within a few days.
I have a twin sister who I'm often confused with! Please check out Sachiko's designs!
A note about my Diamond and Mirasol Patterns: Many of these designs are no longer available, and unfortunately I don't have access to the files, have contact with the companies, nor am I the beneficiary of any sales made from the patterns that are still available. For this reason, I cannot offer pattern support for these designs, or provide access to them. Apologies, and thank you for your understanding. <3
designs from Kiyomi Burgin and Sachiko Burgin