&copy echeverialaui
&copy yvhiha
&copy janetknitwitch
&copy klamsc
&copy klamsc
&copy GateauCake
&copy echeverialaui
&copy yvhiha
&copy GateauCake
&copy M.B.
&copy echeverialaui
&copy M.B.
&copy echeverialaui
&copy echeverialaui
&copy M.B.
&copy M.B.
&copy M.B.
&copy M.B.
&copy M.B.
&copy M.B.
&copy M.B.
&copy M.B.
&copy M.B.
&copy M.B.
&copy M.B.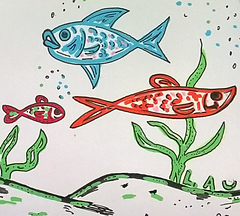 &copy M.B.
&copy M.B.
&copy NCIS, CBS Productions
&copy M.B.
&copy echeverialaui
Caitlin Crescent
This pattern is available
for
€4.49 EUR

buy it now
Caitlin Crescent my third design here on ravelry is inspired by Tony DiNozzo's goldfish, Kate.
It has been fully tested in small and large sizes.
The pattern has charts as well as written instructions.
The pattern was available at a reduced price until halfway through the MKAL.
I am having an (ongoing) pattern-giveaway here:
http://www.ravelry.com/discuss/chloes-crescent-corner/339... , perhaps you are lucky…
I published clues on the following days, starting with clue 1, setup and most of the border:
• clue 1 on 2015-09-05 



• clue 2 on 2015-09-19 



• clue 3 on 2015-09-25 


 



• clue 4 on 2015-10-02 



This pretty shawl is knit sideways increasing until the width of the border is reached, then a straight section is added until you are satisfied with the length of the outward circumference, after that you bind off or knit a little extra. Then stitches are picked up and the body will be knit bottom-up gradually decreasing.
Size options are small and large. Depending on the amount of yarn and the size you want to get you can adapt to other sizes.
Gauge really is of little importance, just make sure you use a needle-size that matches your yarn and you like the result and there is enpough yarn to finish, this shawl is not meant to be knit loosely!
I would like you to
• create a project page to be linked to the pattern, 



• post about your work in my group, membership is not obligatory:
http://www.ravelry.com/groups/chloes-crescent-corner
The discussion-thread can be found here:
http://www.ravelry.com/discuss/chloes-crescent-corner/top...
• If you like my fishes, please consider stating this on the pattern page by granting me a like: ♥♥♥
Materials needed are:
• preferably fingering weight-yarn, solid or semisolid for the border, up to size 1+13+1 (L) a total of 100 grs will be sufficient.
• you can use as many different yarns in solid, semisolid, variegated and colour-changing for the body as you like, you will need more than 100 grs for the large size for the body, 300 grs alltogether, to be on the safe side, I used a little more than 220 grs. If you use heavier yarn and a larger needle size, you will need more yarn.
• yarn needle
• scissors
• stitch markers, at least 20
• polyester fiberfill (1 small bag) or left over yarn
• 3 mm dpns for the final extra of the border or 3 mm circs for this for magic loop and
• 3,5 mm to 4 mm circs for most of the body
Skills needed:
• basic lace knowledge: yo, ssk, k2tog,
• mock-cables
• textured parts, knit and purl.
• twisted stitches: ktbl, ptbl
• slipped stitches
• easy picking up knit stitches from slipped stitches at selvedge
all unusual or difficult stitches are explained
Pattern format and style: pdf

If you are uncertain whether this is the right design for you, best ask about it in my group, you can also send me a pm and I will help you with more detailed information.
♥♥♥♥♥♥♥♥♥♥♥♥♥♥♥♥♥♥♥♥♥♥♥♥♥♥♥♥♥♥♥♥♥♥♥♥♥♥♥♥♥♥♥♥♥♥♥♥♥
Caitlin Crescent mein drittes Design hier auf ravelry wurde inspiriert durch Tony DiNozzos Goldfisch Kate, es ist testgestrickt in zwei Größen
Das Muster enthält Strickschriften, die aber durch Text ergänzt werden, außerdem gibt es eine voll ausgeschriebene Anleitung.
Die Anleitung wird bis zum Erscheinen des 2. Hinweises des MKAL zu einem um 50 % reduzierten Preis erhältlich sein, danach allmählich im Preis ansteigen.
mit Code Ziva,
allerdings wird die Anleitung nur auf Englisch in Clues erscheinen, obwohl es die vier Hinweise auch auf Deutsch gibt. Die komplette Anleitung wird auf Deutsch am 02.10.2015 veröffentlicht. Wer beim MKAL mitmachen und sich für Preise qualifizieren möchte, kann dieses trotzdem tun, eben im Englischen MKAL.
Das sichelförmige Tuch wird von der Seite der Bordüre aus gestrickt, kurz zugenommen, danach gerade gearbeitet, bis Dir die Weite zusagt, danach abgestrickt bzw. ein kleines Extra gearbeitet. Dann werden aus einer Seite Maschen aufgenommen und der Hauptteil wird von unten nach oben mit einfachen Reihen gearbeitet und dabei allmählich abgenommen.
Größen-Optionen reichen von klein bis groß, je nach zur Verfügung stehender Garnmenge und angestrebter Größe, allerdings stelle ich nur 2 Größen zur Verfügung, Anpassungen sind aber möglich.
Benötigte Fertigkeiten: Lace und verschränkte Maschen auch in Rückreihen, Maschen aus der Kante rechts aufnehmen, Du kannst aber gerne meiner Gruppe beitreten und so viele Fragen stellen, wie Du magst, ich werde mich bemühen, diese zu beantworten!
Das fertige Tuch wird ein ideales Weihnachtsgeschenk sein für einen ganz besonderen Menschen!
Wegen der Größe und des Material schaue bitte oben oder hier:
http://www.ravelry.com/groups/chloes-crescent-corner
Die Maschenprobe ist nicht wirklich wichtig, stell nur sicher, dass Garn und Nadelstärke zusammen passen und Dir das Ergebnis gefällt, dieses Tuch sollte nicht zu locker gestrickt werden!
Ich würde mich freuen, wenn Du
• eine Projekt-Seite anlegst und mit der Anleitung verlinkst.
• über Deine Arbeit in meiner Gruppe postest, Mitgliedschaft ist nicht erforderlich:
http://www.ravelry.com/groups/chloes-crescent-corner
Diskutiert wird in diesem Thread:
http://www.ravelry.com/discuss/chloes-crescent-corner/top...
• Wenn Dir meine Fische gefallen, ware es nett, wenn Du dies hier auf der Musterseite durch ein "like" zum Ausdruck bringst: ♥♥♥
Benötigtes Material:
• Sockenwolle, uni oder meliert für die Bordüre, bis Größe 1+13+1 (L) reichen 100 gr.
• Du kannst so viele verschiedene Farben für den Hauptteil benutzen, wie Du magst, ein tolles Stash-busting-Projekt. Hier werden weitere 200 gr in Größe L benötigt, insgesamt sind also 300 gr erforderlich, in Größe S sind insgesamt 200 gr. für das Tuch ausreichend.
• Nadel zum Verstechen
• Schere
• mindestens 20 Maschenmarkierer
• Füllwatte/Polyester fiberfill (1 kleines Beutelchen) oder farblich passendes Restgarn
• 3 mm Spielnadeln für das Schluss-Extra oder 3 mm Rundstricknadel bei Magic Loop und
• 3,5 - 4 mm Rundstricknadel für den Hauptteil
Benötigte Fertigkeiten:
• grundlegende Lace-Kenntnisse: U, 2/3 ü re zus, 2/3 re zus,
• Pseudo-Zöpfe
• Strukturierte Stellen, links und rechts.
• verschränkte Maschen: links und rechts
• abgehobene Maschen
• einfache Maschenaufnahme rechts aus abgehobenen Randmaschen
Alles, was aus dem Rahmen fällt, wird erklärt.
Muster-Format und Stil: pdf

Wenn Du nicht sicher bist, ob dies das richtige Muster für Dich ist, frage am besten in meiner Gruppe oder sende mir eine PM und ich werde Dir gerne weiterhelfen.
About this pattern

9 projects
, in 12 queues
More from Reny S
See them all...
Page created: August 30, 2015

visits in the last 24 hours

visitors right now