Rescue Me, Chin Boy, & Show Me the Stars Socks
by C.C. Almon
Pattern
&copy C.C. Almon / JavaPurl Designs
&copy toilandtrouble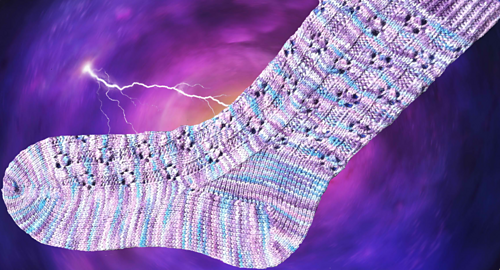 &copy C.C. Almon / JavaPurl Designs
&copy toilandtrouble
&copy C.C. Almon / JavaPurl Designs
Rescue Me, Chin Boy, & Show Me the Stars Socks
This pattern is available from payhip.com
for
$6.00
.
Rescue Me, Chin Boy, and Show Me the Stars (Doctor Who Inspired Socks)
Released on Friday, March 29, 2013, just in time for Doctor Who Series 7 Part 2 which aired beginning Saturday, March 30, 2013.
~✲~✲~✲~✲~✲~✲~✲~✲~✲~✲~✲~✲~✲~✲~✲~✲~✲~✲~✲
When I saw the original yarn that inspired this pattern, I knew I wanted to use it for an amazing pair of socks. The silver in it instantly brought to mind the sparkle of stars. As I pondered possibilities, the thoughts of stars kept coming back to me again and again. I eventually merged together several ideas and began knitting these socks.
After getting a couple of pattern repeats in, I began to giggle & commanded the attention of my 13 year old daughter Dami (who is also a knitter and a bigger Doctor Who fan than I am). I just had to show her what was happening.
Because you see, not only were there the beautiful 6 pointed stars I had designed, but there were also waves that invoked thoughts of wibbly wobbly timey wimey stuff. (Here's the quote for those who are wondering: "People assume that time is a strict progression of cause to effect, but actually from a non-linear, non-subjective viewpoint - it's more like a big ball of wibbly wobbly…timey wimey…stuff." The Tenth Doctor, Doctor Who 3.10 Blink)
At that point, we decided that these socks demanded to be named something Doctor Who related and we came up with the name Rescue Me, Chin Boy, and Show Me the Stars from this quote: "Rescue me, Chin Boy, and show me the stars." ~ "Clara" Oswin Oswald, Doctor Who 7.1 Asylum of the Daleks
And if you're not a Doctor Who fan, never fear! This pattern is subtle enough that you can simply call it Show Me the Stars and never mention the Doctor Who reference.
After the original pattern release, I was contacted by Ana of toil & trouble. Ana dyes amazing yarn including several Doctor Who colorways. We decided to collaborate and now offer a kit including my pattern with her yarn in the gorgeous Starry Starry Night colorway which is a reference to the Doctor Who episode 5.10 Vincent and the Doctor. To purchase the Doctor Who Starry Socks Kit which includes one skein of Ana's Starry Starry Night yarn, and a PDF copy of this sock pattern, visit Ana's Etsy Shop or contact Ana via Ravelry (toilandtrouble) or via email
Happy Knitting!
~✲~✲~✲~✲~✲~✲~✲~✲~✲~✲~✲~✲~✲~✲~✲~✲~✲~✲~✲
These socks are knit using the magic loop method (although the purchaser could easily adapt it for two circulars or double points).
Judy's Magic Cast On and Jeny's Surprisingly Stretchy Bind Off are used in this pattern.
Knitter needs to be comfortable with the following techniques: SSK, KFB, slipping stitches both knitwise and purlwise, yarnovers, and working with yarn held in front / working with yarn held in back. Instructions for all these techniques are included in the pattern. In addition, a video tutorial for the shadow wrap technique of W+T for short rows has been recorded by the designer.
This pattern includes instructions in both written and chart forms for 64 stitch and 72 stitch socks.
I'd like to express my immense gratitude to the creators of Doctor Who for their entertaining work. This design would never have been possible without their inspiration.
Huge thanks to my amazing test knitters: Amy (Knitnmom), Julee (Crojulee), and Jennie (javajennie). ❤❤❤❤❤❤❤
~✲~✲~✲~✲~✲~✲~✲~✲~✲~✲~✲~✲~✲~✲~✲~✲~✲~✲~✲
For pattern support, contact me via Ravelry (JavaPurl) or via email. You can also find help and show off your finished project in the JavaPurl Designs Ravelry Group. Sign up for our newsletter: http://eepurl.com/Mfcdj
~✲~✲~✲~✲~✲~✲~✲~✲~✲~✲~✲~✲~✲~✲~✲~✲~✲~✲~✲
First published: March 2013
Page created: March 29, 2013

visits in the last 24 hours

visitors right now