Socks For Ten (Doctor Who Inspired Socks)
by C.C. Almon
Pattern
&copy C.C. Almon / JavaPurl Designs
&copy JavaPurl
&copy C.C. Almon / JavaPurl Designs
&copy JavaPurl
&copy C.C. Almon / JavaPurl Designs
&copy BBC
&copy C.C. Almon / JavaPurl Designs
&copy JavaPurl
&copy C.C. Almon / JavaPurl Designs
&copy C.C. Almon / JavaPurl Designs
&copy C.C. Almon / JavaPurl Designs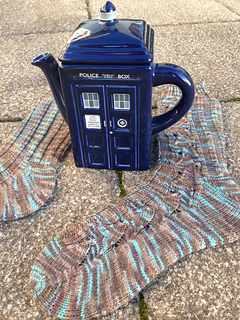 &copy C.C. Almon / JavaPurl Designs
&copy C.C. Almon / JavaPurl Designs
&copy C.C. Almon / JavaPurl Designs
&copy C.C. Almon / JavaPurl Designs
&copy phoenixfire
Socks For Ten (Doctor Who Inspired Socks)
This pattern is available from payhip.com
for
$6.00
.
Socks For Ten (Doctor Who Inspired Socks)
Released on Wednesday, 20-November-2013, just in time for the 50th Anniversary of Doctor Who on Saturday, 23-November-2013
~✲~✲~✲~✲~✲~✲~✲~✲~✲~✲~✲~✲~✲~✲~✲~✲~✲~✲~✲
The 50th Anniversary of one of my favorite telly shows, Doctor Who, is upon us. I knew I wanted to design a new sock pattern for this momentous occasion. The gorgeous skein of yarn I designed these socks with screamed the Tenth Doctor from the moment I saw it.
After careful deliberation with another Doctor Who enthusiast (my darling 14 year old daughter Dami who is an amazing knitter in her own right), we decided that nothing said Tenth Doctor more than his trademark pinstripe suit. But the socks needed something more than that, so we were inspired by the tie that Ten wears most often that is full of spirals and swirls.
Thus, this pattern was born. The mirrored design panel on the outside of each foot is reminiscent of Ten's favorite tie and the remainder of the sock has gorgeous pinstripes which instantly invoke thoughts of Ten's famous pinstripe suit. Brilliant, right?????
Dami named these socks, Socks For Ten, after Murray Gold's "Song For Ten" from the Series 2 episode, The Christmas Invasion.
"And I started to walk, Pretty soon I will run,
And I'll come running back to you, 'Cause I followed my star,
And that's what you are, I've had a merry time with you."
So what are you waiting for???? Grab some yarn and enjoying knitting these Socks For Ten (Doctor Who Inspired Socks) while you celebrate the 50th Anniversary of one of the best telly shows there is, Doctor Who!
Happy Knitting! Allons-y!
~✲~✲~✲~✲~✲~✲~✲~✲~✲~✲~✲~✲~✲~✲~✲~✲~✲~✲~✲
These socks are knit using the magic loop method (although the purchaser could easily adapt it for two circulars or double points).
Judy's Magic Cast On and Jeny's Surprisingly Stretchy Bind Off are used in this pattern.
Knitter needs to be comfortable with the following techniques: KFB, Ktbl, psso, k2tog, p2tog, k2togtbl, ssk, M1R, M1L, slipping stitches both knitwise and purlwise, yarnovers, and working with yarn held in front / working with yarn held in back. Instructions for all these techniques are included in the pattern.
This pattern includes instructions in both written and chart forms for 64 stitch and 72 stitch socks.
I'd like to express my immense gratitude to the creators of Doctor Who for their entertaining work. This design would never have been possible without their inspiration.
Huge thanks to my amazing test knitters: Tracy (phoenixfire), Andrea (angeiship), Ashleah (a1dawen), Cristy (cristyray), & Mariet (mariawilhelmina). ❤❤❤❤❤❤❤
~✲~✲~✲~✲~✲~✲~✲~✲~✲~✲~✲~✲~✲~✲~✲~✲~✲~✲~✲
For pattern support, contact me via Ravelry (JavaPurl) or via email. You can also find help and show off your finished project in the JavaPurl Designs Ravelry Group. Sign up for our newsletter: http://eepurl.com/Mfcdj
~✲~✲~✲~✲~✲~✲~✲~✲~✲~✲~✲~✲~✲~✲~✲~✲~✲~✲~✲
First published: November 2013
Page created: November 20, 2013

visits in the last 24 hours

visitors right now