patterns

>

Russian Fibers

>

Russian Empire: Mystery Orenburg Stole
&copy loria
&copy waldoknits
&copy ebookwyrm
&copy Tasamaia
&copy Svetta
&copy MrsCoop
&copy logan8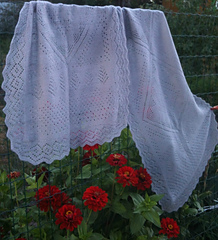 &copy Lola from nizhny Novgorod
&copy Lola from Nizhny Novgorod
&copy Svetta
&copy GroshevaAnna
Russian Empire: Mystery Orenburg Stole

This pattern is
available for free.
This was a mystery knit along several years ago in 2014 first started on one of Russian forums and then made available for English speaking knitters as well.
Clues are linked on the website.
Languages supported : English, Russian.
Pattern summary post and finished CAL shawls examples
The free pattern is body of the shawl only. During CAL knitters picked their own teeth whatever they liked, also there were at least 2 attachment methods used during CAL:
1) classic Orenburg method when teeth are knit with the body
2) warm shawls teeth attachment (see 2-color)
ravelry had several cal's for this also other sites
CAL link1 supported by designer on ravelry
Teeth knitters picked as desired, some from my patterns and from other patterns as well, some were from individual knitters as they wanted the teeth edging to be done with my guidance regarding the appropriate style and regarding the thickness of the yarn and corresponding teeth attachment method chosen, CAL knitters had total freedom of creativity regarding that.
Custom teeth used by individual knitters are not part of free CAL pattern.
Yarm amount
900-1000m is needed to make 3 diamond stole with a simple teeth border , gauge: 100 stitches=100m of yarn (20 stitches, 5 rows).
during KAL the participants were using different yarns and needles and different amount of diamonds repeats, some larger stoles were made in 2m long range and took above 1500m of yarn
Amount of yarn needed for different teeth needs to be calculated accordingly and up to the knitter.
The free pattern is the training starter pattern for The Three Sisters Set. The pattern Three Sisters. Vintage , Oldest Sister is the one with the matching diamond, the match in the free pattern and Vintage is exact.The free pattern gives a little taste of what the Orendurg lace patters are and how diamonds are laid out and what are the types of charts used, also it introduces the knitter to visual tracking skill set development using holes based charts-layouts and explains wisivig applied to shawls.
Full patterns are in 3 Sisters collection.
What is in 3 Sisters Collection:
Each pattern is 30+ pages complete e-book and collection of charts.
Vintage - The oldest sister, matching diamond with the free pattern
Mothers Love - The middle sister
We are young - The youngest sister
3 Sisters is the set of 3 patterns. These 3 patterns are pro series training patterns. They represent the path of the lace maker in the family and how shawls change with the age of the lace maker and their natural skills development and show how the lace matures towards cleaners form. The pro Orenburg lace relies on visual tracking skill set. Detailed charts are provided to develop this skill set.
Chats are full holes based chart. Detailed base pattern charts, detailed all rows main elements charts, odd rows combination large elements charts.
This pro series patterns is not a first Orenburg lace project kind of a patterns. Advanced lace knitting skills are required, experience in knitting Orenburg lace is required. To have a better start with Orenburg lace and smoother transition into pro series
there is a bundle of study Orenburg lace patterns
It is very beneficial to study this type of lace and develop some solid Orenburg lace knitting skills and have base patterns down nice and solid before attempting to knit pro series Orenburg lace. However there are lace knitters who love tough challenges, that's just the pattern for them. And there are one who jumped right into holes based charts lace and love it.
Page created: June 9, 2012

visits in the last 24 hours

visitors right now