&copy Mona NicLeoid
&copy Mona NicLeoid
&copy Mona NicLeoid
&copy Mona NicLeoid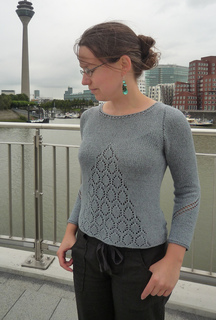 &copy Mona NicLeoid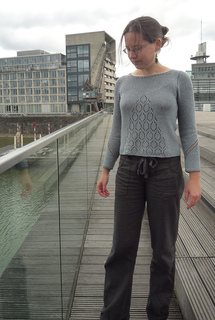 &copy Mona NicLeoid
&copy Mona NicLeoid
Thera
This pattern is available
for
$7.00 USD

buy it now
Deutsche Info siehe unten
A semi-fitted summer pullover that can be dressed up with linen trousers or dressed down with denim shorts.
Thera is the Ancient Greek name for the island known today as Santorini or Fira.
Sizing:
XXXS: 30'' / 76 cm; XXS: 32'' / 81 cm; XS: 34'' / 86.5 cm; S: 36'' / 91.5 cm; M: 38'' / 97 cm; L: 40'' / 102 cm; XL: 42'' / 107 cm; 2X: 44'' / 112 cm; 3X: 46'' / 117 cm; 4X: 48'' / 122 cm bust circumference.
Shown in size XS on a person with a 86 cm / 34'' bust and a 94 cm / 37'' hip.
The sweater is intended to be worn with little to no ease around the bust and upper arms and some drape around the waist.
The pattern contains detailed advice for adapting the sweater to your individual requirements.
Yarn requirements:
XXXS: 670 yds / 610 m; XXS: 790 yds / 720 m; XS: 910 yds / 830 m; S: 1010 yds / 920 m; M: 1100 yds / 1000 m; L: 1200 yds / 1100 m; XL: 1300 yds / 1190 m; 2X: 1390 yds / 1270 m; 3X: 1470 yds / 1340 m; 4X: 1540 yds / 1410 m.
Yarn advice:
The original was knitted in Lana Grossa Mare which is a reasonably priced yarn from one of the biggest German yarn manufacturers, but it might not be as easily available elsewhere. (I am not particularly suggesting it either. It just happened to be on sale at a local shop back in 2011 when I was looking for yarn for a summer sweater…)
To achieve a similar result, a yarn with cotton, linen, silk, viscose or rayon content should be used. The yarn should be smooth, for clear stitch definition in the lace pattern, and heavy enough to produce a nice drape. Chainette type yarns are particularly recommended.
Tension/gauge:
22 sts / 30 rows = 10 cm / 4'' in stockinette stitch.
Keep in mind that plant fibre yarns have a tendency to stretch with wash and wear, so blocking your swatch is essential. Also, if you are in between two sizes, choose the smaller one because the garment will be stretchy enough.
Needle advice:
Use the needle size that gives you the required gauge, most likely 3.5 - 4mm / US 4-6.
You will need a medium long circular needle (60 - 100 cm / 24 - 40'') to knit the body in the round. The sleeves can be worked with "magic loop" or with dpns.
Construction:
The sweater is worked bottom up in the round. At the armholes it is split, the front and the back are worked flat with armhole and neckline shaping and optional shoulder shaping, then joined at the shoulders. The sleeves are knitted into the armholes from the top down with short row shaping for the sleeve cap. Finally stitches are picked up for the neckline finishing.
The lace pattern is charted. You cannot work this design without using the charts.
~~~ ~~~ ~~~
Ein leicht taillierter Pullover, der sowohl zu eleganten als auch zu lässigen Outfits passt.
Thera ist der altgriechische Name der Insel, die heute als Santorini oder Fira bekannt ist.
Größen:
XXXS: 76 cm; XXS: 81 cm; XS: 86.5 cm; S: 91.5 cm; M: 97 cm; L: 102 cm; XL: 107 cm; 2X: 112 cm; 3X: 117 cm; 4X: 122 cm Brustumfang.
Der Originalpullover in Größe XS wird auf den Photos von einer Person mit 86 cm Brustumfang und 94 cm Hüftumfang getragen.
Der Pullover sollte mit nur wenig Mehrweite an der Brust und ca. 5-8 cm Mehrweite an der Unterkante (zwischen Taille und Hüfte) getragen werden.
Die Anleitung enthält detaillierte Hinweise zur individuellen Größenanpassung.
Garnverbrauch:
XXXS: 610 m; XXS: 720 m; XS: 910 yds / 830 m; S: 920 m; M: 1000 m; L: 1100 m; XL: 1190 m; 2X: 1270 m; 3X: 1340 m; 4X: 1410 m.
Garnempfehlungen:
Das Original wurde mit Lana Grossa "Mare" (40% Rayon, 30% Baumwolle, 30% Leinen; 50g = 110 m) gestrickt, aber ich empfehle dieses Garn nicht besonders.
Um ein ähnliches Ergebnis zu erzielen, sollte ein glattes Garn aus Baumwolle, Leinen, Seide, Viskose oder Rayon verwendet werden, damit es ein klares Maschenbild im Lochmuster ergibt und durch sein Eigengewicht schön fällt. Bändchengarne eignen sich recht gut, da sie wenig ausleiern.
Maschenprobe:
22 M / 30 R = 10 x 10 cm in glatt rechts.
Garne aus Pflanzenfasern und Viskose neigen dazu auszuleiern. Daher ist es besonders wichtig, die Maschenprobe zu waschen und zu spannen. Wenn man zwischen zwei Größen liegt, sollte man die kleinere wählen.
Nadeln:
Es sollte die Nadelstärke gewählt werden, mit der man die angegebene Maschenprobe erreicht, wahrscheinlich 3.5 - 4mm.
Es wird eine mittellange Rundstricknadel (60-100 cm) benötigt, um den Körper in der Runde zu stricken. Die Ärmel können mit "magic loop" oder mit einem Nadelspiel gestrickt werden.
Konstruktion:
Der Pullover wird von unten zunächst in der Runde gearbeitet. An den Achseln wird er in Vorder- und Rückenteil geteilt, die einzeln flach weitergearbeitet werden, wobei die Armlöcher, der Halsausschnitt und die Schulter geformt werden. Die Schulterkanten werden durch gemeinsames Abketten verbunden.
Die Ärmel werden von oben nach unten in die Armlöcher hineingestrickt, wobei die Armkugeln durch verkürzte Reihen gebildet werden. Zuletzt werden rund um den Halsausschnitt Maschen aufgenommen und ein Abschluss gestrickt.
Die Lochmuster sind als Strickschrift (chart) dargestellt.
Page created: November 13, 2011

visits in the last 24 hours

visitors right now