It's Them Aliens! Socks (Doctor Who Inspired)
by C.C. Almon
Pattern
&copy JavaPurl Designs / C.C. Almon
&copy JavaPurl Designs / C.C. Almon
&copy JavaPurl Designs / C.C. Almon
&copy JavaPurl Designs / C.C. Almon
&copy BBC
&copy JavaPurl Designs / C.C. Almon
&copy JavaPurl Designs / C.C. Almon
&copy JavaPurl Designs / C.C. Almon
&copy JavaPurl Designs / C.C. Almon
&copy JavaPurl Designs / C.C. Almon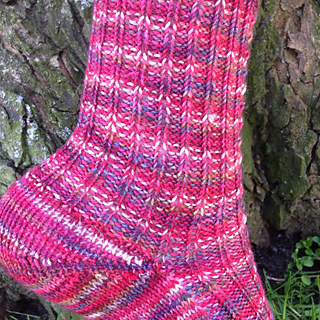 &copy JavaPurl Designs / C.C. Almon
It's Them Aliens! Socks (Doctor Who Inspired)
This pattern is available from payhip.com
for
$6.00
.
It's Them Aliens! Socks (Doctor Who Inspired)
Released Thursday, 25-June-2015, to the members of the Doctor Who Companions Sock Club ~ 3rd Edition (Summer 2015)
As of Friday, 18-December-2015, the pattern is out of exclusivity and available for purchase here on Ravelry
~✲~✲~✲~✲~✲~✲~✲~✲~✲~✲~✲~✲~✲~✲~✲~✲~✲~✲~✲
On the heels of my other Doctor Who inspired sock patterns (Rescue Me, Chin Boy, and Show Me the Stars, Socks For Ten, Spoilers Socks, Come Along Pond Socks, Soufflé Girl Socks, Nice to Meet You Rose Socks, Hello, I'm Captain Jack Harkness Socks, K-9 Says Affirmative Socks, Can Missy Say Something Nice? Socks, & Oi! Watch It Spaceman! Socks), I am super excited to have collaborated with Julia of Pandia's Jewels on another series of Doctor Who companions inspired socks. This pattern is inspired by the ever lovable companion Wilfred Mott.
About the socks – The primary design element is ribbing similar to the ribbing on Wilf's signature hat. The secondary design element is wings reminiscent of the winged pin Wilf sometimes wears on his hat. The winged pin is the insignia for the Parachute Regiment of the 6th Airborne Division of the British Army which Wilf was a part of.
It's Them Aliens! Happy Knitting!
~✲~✲~✲~✲~✲~✲~✲~✲~✲~✲~✲~✲~✲~✲~✲~✲~✲~✲~✲
These socks are knit using the magic loop method (although the purchaser could easily adapt it for two circulars or double points).
The German Twisted Cast On and Kitchener Stitch are used in this pattern.
The knitter needs to be comfortable with the following techniques: knit, purl, ktbl, k2tog, ssk, W+T, & cables. Instructions for all these techniques are included in the pattern. In addition, video tutorials for the shadow wrap technique of W+T for short rows and for the Wings stitch have been recorded by the designer and the links are provided with this pattern.
This pattern includes instructions in both written and chart forms for 56 stitch, 64 stitch, and 72 stitch socks.
I'd like to express my immense gratitude to the creators of Doctor Who for their entertaining work. This design would never have been possible without their inspiration.
Huge thanks to my amazing test knitters: Andrea (angeiship), Cristy (cristyray), Shirley (ShirleyMirley), Susan (clucks), and Tracy (phoenixfire). ❤❤❤❤❤❤❤
~✲~✲~✲~✲~✲~✲~✲~✲~✲~✲~✲~✲~✲~✲~✲~✲~✲~✲~✲
For pattern support, contact me via Ravelry (JavaPurl) or via email. You can also find help and show off your finished project in the JavaPurl Designs Ravelry Group. Sign up for our newsletter: http://eepurl.com/Mfcdj
~✲~✲~✲~✲~✲~✲~✲~✲~✲~✲~✲~✲~✲~✲~✲~✲~✲~✲~✲
First published: June 2015
Page created: June 25, 2015

visits in the last 24 hours

visitors right now