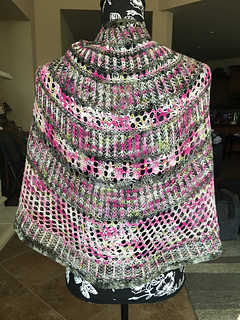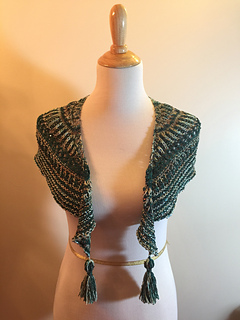 Stained Glass Brioche KAL
There are 2 options for this knitalong Starting September 1:
Small shawl with 2 skeins of Beaded Silk and Sequins in 2 colors (A and B) (200 yards total, 100 yards in each color)
Large shawl with 2 skeins of Merino Cloud in 2 colors (A and B) (800 yards total, 400 yards in each color)
Any Artyarns yarn can be used. If you wish to join, please create a project page by hitting "cast on" here, then add a photo of the yarn you will use--this must be a photo you have taken yourself, not a photo from the internet.
On or about September 1, you will receive the first part of the knitalong by Ravelry private message. If your yarn choice is suitable for the smaller shawl, you'll get those instructions. Otherwise you'll get the larger shawl instructions.
Please complete Part 1 no later than Nov 1, 2019. This is going to be the deadline for joining and posting a photo of the beginning of the project (which is only a small number of stitches). After that part is complete and posted, there is no deadline.
I hope you join us for this perfect project for fall.
You can purchase these colors or others that would be great (multi and solid) through our Artyarns re-sellers participating in this knitalong:
Fabulous Fibers Arts and More (AK)
Isabelle's Yarn Parlour (AZ)
Kat's Craft & Yarn Cottage (CA)
Knitique (CA)
L'Atelier (CA)
La Knitterie Parisienne (CA)
Yarn Geek Boutique (CA)
Ewe and Me (CO)
Pamela Roose Knits (CT)
Westport Yarns (CT)
Knitting Garden (FL)
Mosaic Yarn Studio (IL)
The Studio Knitting & Needlepoint (KS)
A Great Yarn (MA)
Nautical Yarns (MI)
Playing with Yarn (MN)
Silver Creek (MN)
Fiber Basket (ND)
Earth Faire (NJ)
Fabulousyarns (NY)
String (NY)
Echo Valley Fiber (PA)
Knitter's Oasis (VA)
Yarn Cloud (VA)
Sock Peddlers (WA)
D Marie (WI)
Cowgirl Yarn (WY)
Ewe Count (WY)
International:
Mode City (Belgium)
Mont Tricot (Canada)
Dibadu (Germany)
Knitting Clan (Hong Kong)
Jannette's Rare Yarns (UK)
Love Knitting (UK)
Tribe Yarns (UK)
Here's our discussion group for additional information. This is a great place to ask any questions.
https://www.ravelry.com/discuss/artyarns-knitalongs-and-designs/3945337/1-25
Page created: August 1, 2019

visits in the last 24 hours

visitors right now