Elena Madsen
!
I love creating crochet designs, going into that creative bubble, experimenting having fun and letting go. It brings a little light into my every day and makes a big difference. I hope that you will feel this joy, working with my patterns. I aim to make patterns to inspire and allow you to express your unique creativity. Not two individuals, nor two projects are exactly the same. It never seizes to amaze me.
Favorite quote: "Creativity is intelligence having fun" / Albert Einstein
PS: Sign up to my monthly N E W S L E T T E R for crochet tips and tricks and peek behind the scenes. I'll keep you up to date with the release of new patterns, sales and special offers that I only share with subscribers. I will also share the occassional freebee for you to enjoy!
If you have any questions about my patterns, send me a message here on Ravelry and I'll get back to you ASAP :)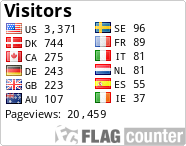 Elena